You can edit published Multichannel posts that you are the creator of in the Studio. You need "Access Multichannel Studio", "Create, edit and delete posts", and "Publish posts" permissions to edit posts. A user with moderator access can access and edit all posts.
Posts that require read confirmation from recipients cannot be edited after publication.
Edit a post
Go to Studio from the main navigation bar
Find and open the post you want to edit from My work > Published or by searching in the Calendar and selecting in the mini-preview
Select Edit in the editor toolbar
You can then edit the following areas:

Publish as
Post title
Post text and its content, including images, videos, etc.
Teaser title, text, and image
Add the post in additional languages or remove a language
If Timeline as a channel is selected, enable or disable likes and comments. Existing likes/comments are hidden.
Add the post to the Featured posts widget

When you're done making changes, select Publish changes. Alternatively, to revert to the original post, select Discard.
The original post creator and publish date remain the same even after a post has been edited. When a post is being edited, the current version of the post remains live until the changes have been published.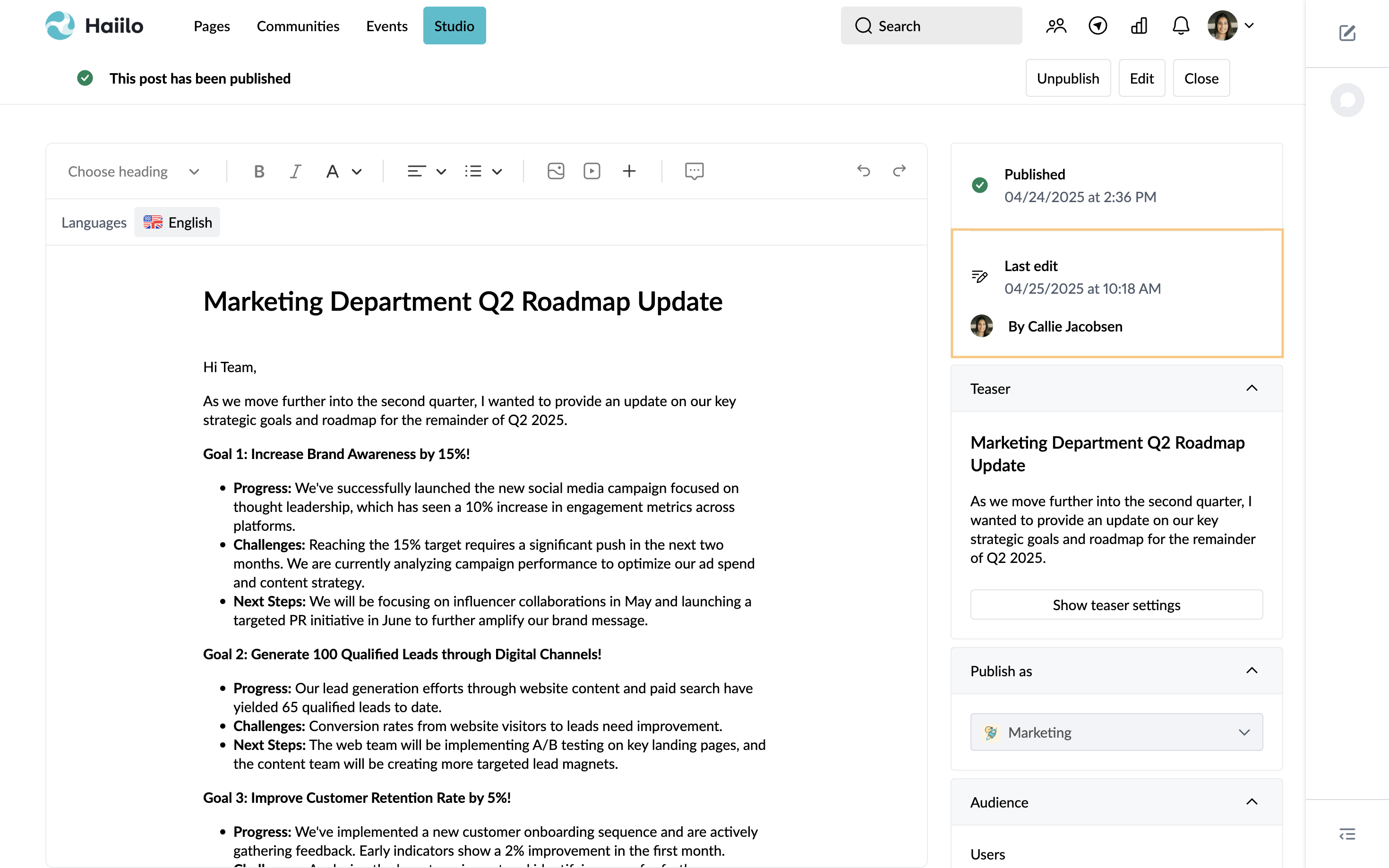 View an edited post
After a post is edited, the calendar mini-preview displays an Edited label. The editor also shows who made the last edit and when. An edited post is updated as follows:
On the timeline: The post is updated with the new content but is only visible to the user after they reload their browser session. An Edited label is displayed next to the date and time of the initial publication.
In the Features posts widget: The teaser title and text are updated.
In the hero teaser: The teaser title and text are updated, and the post is moved back to the first position if it isn't already in that position.
On MS Teams: The teaser title and text are updated.
On Slack: The content is updated for Slack.
On Email: Any changes you make to a post sent via email are not applied to the email channel, as a sent email cannot be edited. No new email is sent either.