You can create Multichannel posts in the Studio. You need "Access Multichannel Studio" and "Create, edit and delete posts" permissions to create posts. To publish posts, you need "Publish posts" permission. Users who don't have this permission can only create and edit posts but require approval from an admin for them to be published.
Currently, Multichannel posts cannot be deleted. Although moderators can see the Delete option on the timeline, the post is not marked as deleted in the Studio and remains in 3rd party channels.
Create a post
Go to Studio from the main navigation bar
Select New post in the upper right corner to open the editor
In Publish as, select who will appear as the post's author: you or a Page/Target Audience.
If you have the multi-language add-on, your post's main language will be set to your preferred language from your account settings. You can add more languages as explained in step 6 below.
Add your content. You can use the editor toolbar to add lists, quotation blocks, hyperlinks, images, videos, etc., to your post.

If enabled for your platform, use Haiilo AVA (Artificial Virtual Assistant) to create the first version of your post by adding a slash or highlighting a sentence and selecting AVA.
The following requirements apply for images and videos uploaded in the Studio:

Images
Videos

Supported formats: JPEG, PNG, GIF, BMP, WebP, TIFF

Upload limit: 25MB

Supported formats: WebM, MPEG-4/H.264

Upload limit: 2GB

You can add more languages if your platform uses the multi-language add-on. Otherwise, skip this step.

Select + next to the original language
Choose a language from the list. Only languages that have been activated in the administration can be added.
C

hoose if you want to:

Copy the content from another

language that you've already written the post in

Start with a blank editor in the new language

If your Haiilo platform uses automated translations, auto-translate the post into the desired language with DeepL or Microsoft Translate.

You have the option to add comments to your post which will be visible to the approver. This is helpful if you want to explain why you made a particular choice in the article.

Highlight a piece of content, e.g., a sentence
Select the comment icon that pops up or from the editor toolbar
Enter your comment
Select the green checkmark to add your comment

When you're done with your post's content, adjust the post's settings.
A draft of your post is saved and updated within a few seconds every time a change is made to your post. This means you can leave the editor, and your post will be saved automatically, so you can return and finish the post later. Only the latest version of your post is saved. Your drafts can be located in the Studio from the Dashboard or Calendar tab.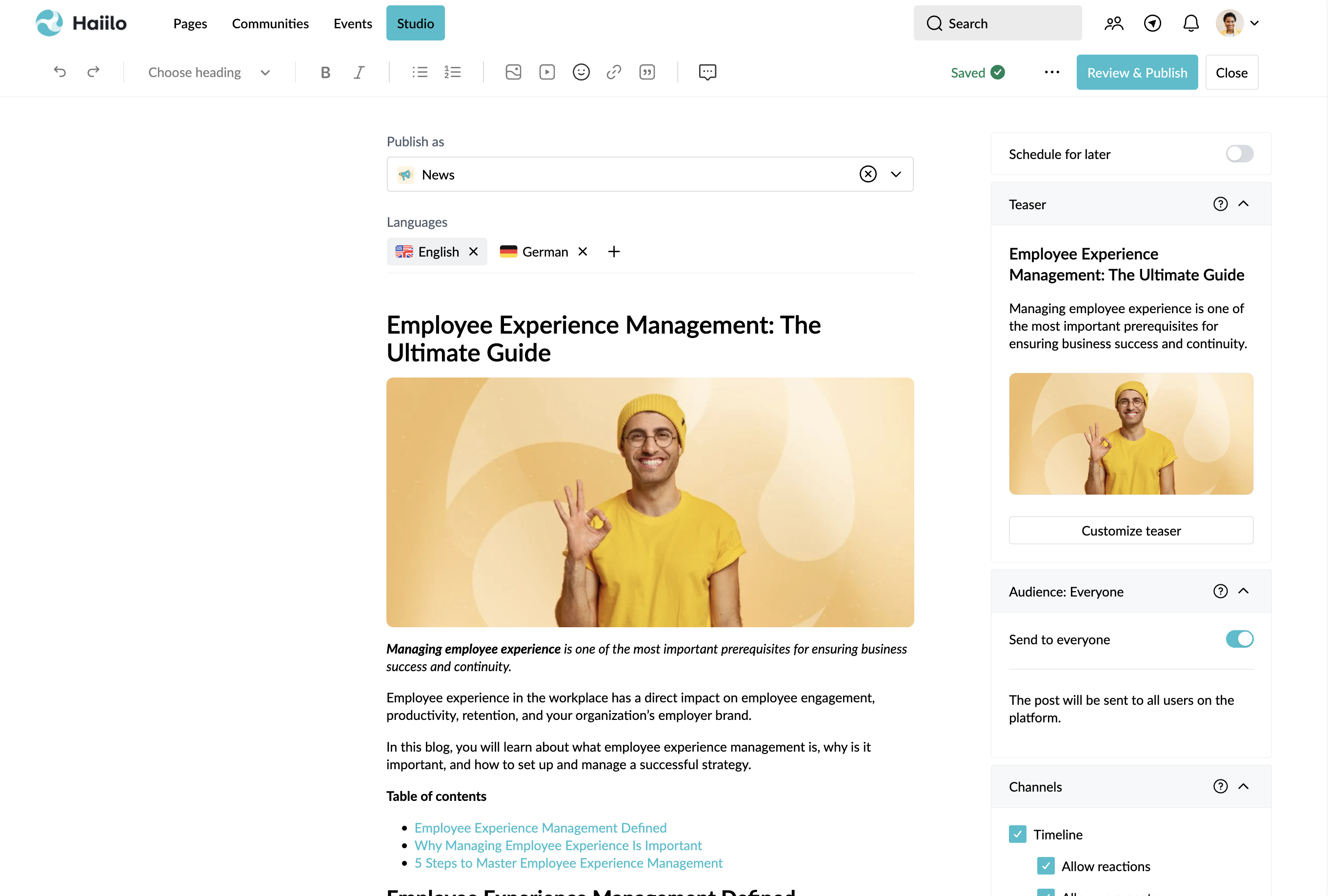 Adjust a post's settings
When getting ready to send your post for approval or publish it, you can configure the settings for your post on the right-hand side of the post creator.
Schedule for later: You can set a scheduled date and time for your post before requesting approval or publishing. The post is scheduled automatically for the set date and time. If the post creator doesn't set a date and time before requesting approval, they must publish it manually after approval.
Teaser: Every post has a teaser with a title, body, and image(s) that is automatically generated using content from your post. The teaser will continue to update itself as you make changes to your post until you manually edit it. Once you've edited the teaser, it will remain in that edited state and won't update automatically anymore. You can still manually edit it. A preview teaser shows what you're post will look like on the timeline.


A teaser title and body can be different for each language, but the image(s) will be the same in all languages.
You can use up to four images or one video in your teaser. Multiple images will be displayed as a collage, and the user should read the entire post to view the images fully. A video teaser is playable directly on the timeline.

You can choose a focal point for your teaser image(s) so that the best section of it is always displayed.

Show in "Featured Posts": When you select this option, your post is included in a featured posts widget.
Show in "Hero Teaser": When you select this option, your post's title, body, and image, as defined in the teaser, are featured in the hero teaser on the homepage.
Audience: You target your post to ensure it reaches the right users. The post creator is preselected and fixed. Once you select an audience, a list of targeted users appears under Show custom audience.

Send to everyone: The post is sent to everyone on the platform. To choose this, you need permission to "Target any audience".
Users: The post is sent to selected individual users. To choose this, you need permission to "Target any audience".
Pages/Target Audiences: The post is sent to selected page/target audience subscribers. This option is available to all post creators.
Groups: The post is sent to selected user management user groups. To choose this, you need permission to "Target any audience".

 Channels: You can select which channels to send your post to for the chosen audience. The channels you see depend on what has been configured in Administration > Multichannel.

Timeline: The post is displayed on the timeline for the selected audience. The post creator can choose if commenting or liking is enabled for the post unless these options are disabled by the admins in the administration.
Email: The post is emailed to the selected audience.
Slack: The post is sent as a Slack message to the selected audience.
Microsoft Teams: The post is sent as a Teams message to the selected audience.

Request read confirmation: When you select this option, your audience needs to acknowledge that they have read the post. A user confirms the read once in their preferred channel. A post with read confirmation is distinguished by a To acknowledge tag.
Once you've finished creating and configuring your post, you can either send it for approval or publish it, depending on your permissions.
Request approval for a post
A user without publish permission submits their post for approval before it can be published.
Select Review & send for approval in the editor toolbar
Review the preview and your configured settings
If you're satisfied, select Send for approval. If you need to make changes, select Back.
Choose an approver for your post. A post can only have one approver.
Select Send for approval to submit
You can see your posts awaiting approval from Dashboard > My work > Under approval. You can, at any point during the approval process, Withdraw the post to make additional changes to it. If you withdraw it, you need to submit it for approval again.
An admin can't change the content or settings of your post, so if they want changes to be made to it, they can comment on it and reject it for you to make changes before resubmitting it for approval.
Publish a post after approval
After an admin approves your post, the next steps depend on whether you scheduled it before submitting it for approval.
A scheduled post is queued for publishing automatically according to your schedule. You can see it from Dashboard > My work > Scheduled.
An unscheduled post needs to be published manually.

Open the post from Dashboard > Tasks for today > Ready for publishing.
Select Publish now for the post to be published.