Keeping your employees informed is the first step to building an engaged workforce. Thanks to Haiilo's Multichannel Communication module, you are able to reach and involve your employees with targeted company news through their preferred channels and devices. No excuses for information silos anymore!
With Haiilo's Multichannel Communication module, you will get access to the Content Studio, where you create and plan your communication and can view the analytics. In the Studio, you will find three tabs:
Dashboard: shows your drafts and published posts or others' posts waiting for your approval

Learn about creating posts and approving posts in these articles:

Calendar: shows all published, scheduled, and planned posts in your Haiilo platform in a calendar view, so you can easily plan your communication

Learn about the Calendar in this article:

Analytics: includes the analytics for your published posts, for example, how many employees were reached or engaged with your posts

Learn about the Analytics in this article:
Before diving into the instructions on how to use the Multichannel Communication Content Studio, you can find the requirements, permissions, and configuration settings for using the Multichannel Communication module in Haiilo below:
Requirements
The main requirements for using Multichannel Communication in Haiilo are a license and permissions. That is, to use Multichannel Communication, it must be enabled for your Haiilo platform. If you are interested, you can create a ticket through the Service Desk, and our Account Managers will be in touch with you.
When the license has been enabled, certain permissions have to be assigned via the role or group system in Haiilo.
Access Multichannel Studio: allows users to access and view the Studio and all its tabs
Create, edit and delete posts: allows user to create, edit, and delete posts
Publish posts: allows users to approve, reject, and publish posts
Multichannel administration: allows users to manage the Multichannel settings in the Administration
Target any audience: allows users to select more audiences, that is, "Everyone," individual users, and user groups. If this is not enabled, users can only select Target Audiences/Pages as an audience for their posts.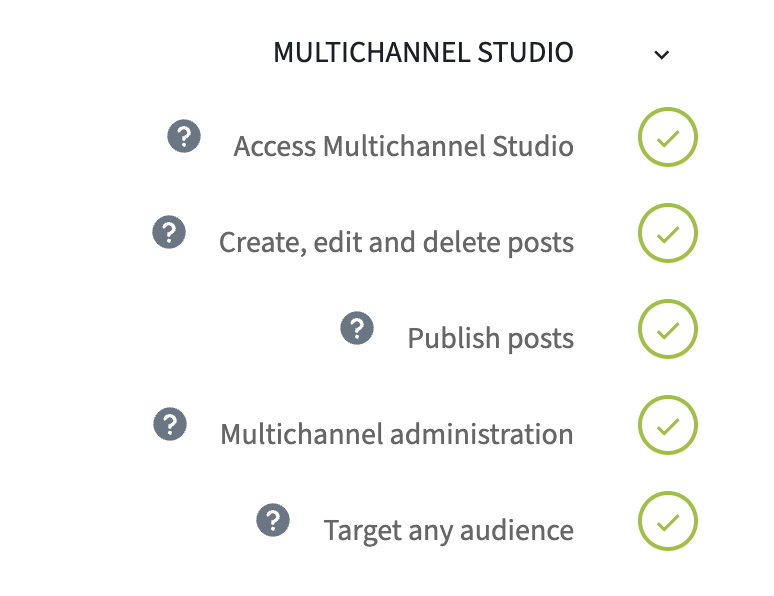 Users who will use the Studio to create posts without publishing permissions (a post creator) need only these permissions:
Access Multichannel Studio
Create, edit and delete posts
A user with the above permissions can create posts for Target Audiences/Pages. If a user should be allowed to target "Everyone," individual users, and user groups in addition to Target Audiences, they also require the permission "Target any audience."
Note:
A post creator must request approval on their posts from a user with publishing permissions (an approver) so that they can be published. Users with the "Publish posts" permissions can be selected as an approver. Alternatively, if the post's audience has been set to be one specific Target Audience/Page, an Admin of that Target Audience/Page can be selected as an approver despite not having publishing permissions, as long as they also have the post creator permissions.
Configuration
Communication Channels
You can determine and set up which communication channels you want to use for Multichannel Communication in the Haiilo Administration. To access, select "Administration" from your profile dropdown, followed by the menu item "Multichannel."
You have several channels to choose from:
Timeline

Additionally, you can decide if you allow post creators to turn on/off commenting and liking for their posts. If these are turned off, any posts created will not show the commenting or liking options.

Slack
Microsoft Teams
Email
The channels you set are available for all post creators to select in the Studio.
Learn how to configure the Slack and Microsoft Teams channels in these articles: