Each of our customers is entitled to support from Haiilo. Your selected service package determines the number of accounts and response times in our Service Desk. Your tickets will be processed during our support hours from Monday to Friday between 09:00 and 18:00 CET.
If you'd like to change your service package to receive more service desk accounts or faster response times, reach out to your Haiilo Account Manager for assistance.
Log in to the Service Desk
When you purchase Haiilo, you will be assigned service desk accounts according to the service package you chose: 1 for Basic, 3 for Bronze, 5 for Silver, and 10 for Gold. You let us know which persons at your company should have an account to create tickets, and we'll send registration emails to them. Each account can only be used by one person, i.e., you cannot use a shared email address for an account.
Each user is automatically assigned to an organization in the service desk. In this case, your tickets will be shared with the rest of the organization, and everyone will have access.
Users with accounts can log in to Haiilo's Service Desk from Sign In in our Support Center.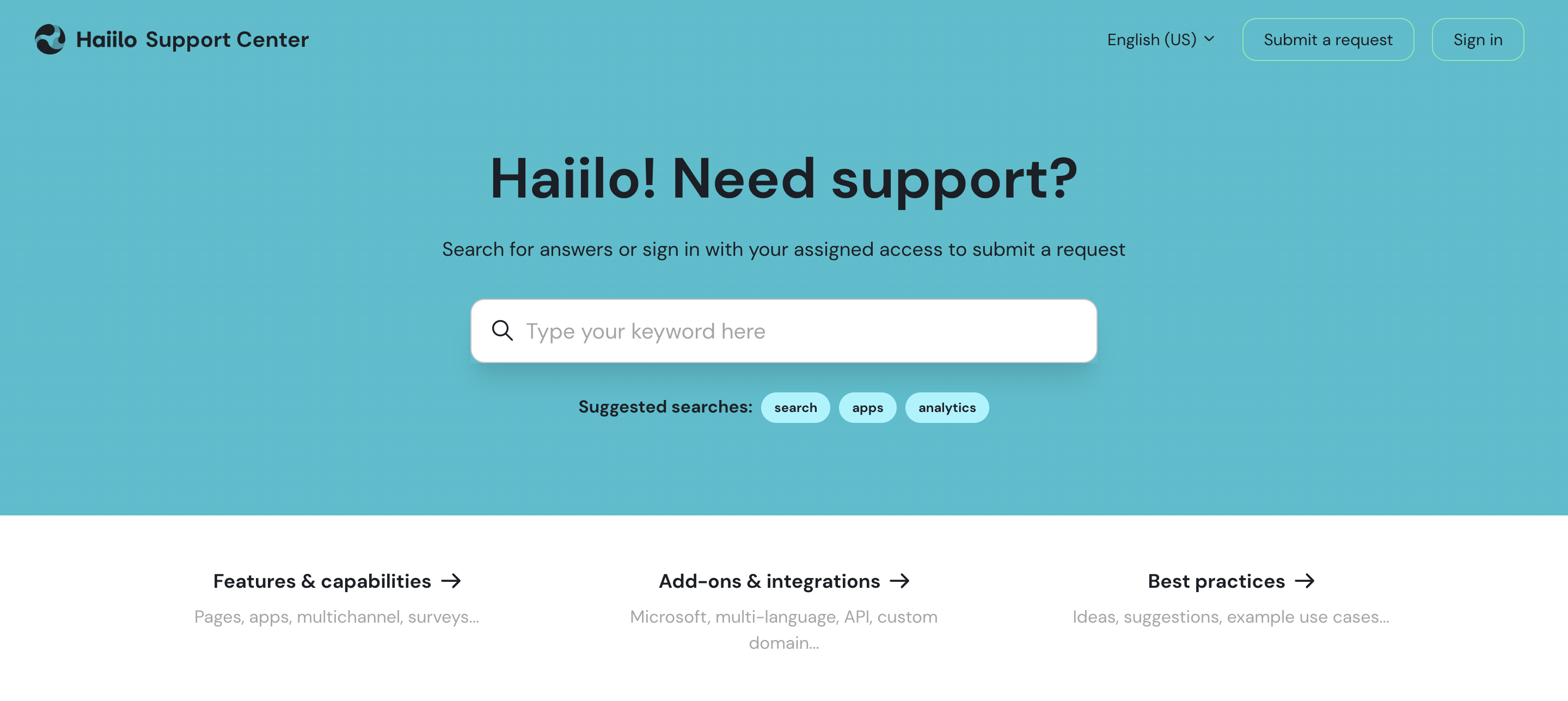 Should you want to change your Service Desk password later, you can select Change password in the upper right corner underneath your profile picture after logging in to our service desk. Alternatively, you can select Forgot password? on the login page to receive a reset password email.
Create a ticket
Only create one ticket per question or problem. The advantage of this is that it enables you to keep track of previously answered queries. If a similar issue arises, this can save time in the future, as you can refer back to the resolved inquiries to quickly find the appropriate solution.
To create a new ticket, you must first log in to the service desk from Sign In in the upper right corner of the Support Center. You log in with your email address and password.
Select Submit a request to open a new ticket.
Select a ticket type. There are two ticket types available:

Service request: Use this ticket type if you need any service outside of reporting a problem. This includes, for example, questions on the product and its functionalities, licensing, who to contact, etc.
Issue request: Use this ticket type if you want to report problems or errors with Haiilo. If you have already identified any of these circumstances, please provide us with the above information directly:

If a red error message appears at the bottom left: please create and attach a HAR export of the behavior.
If only certain users are affected: please tell us who the users are who have noticed the behavior. This way, we can directly check the users by accessing your Haiilo. There are often inconsistencies in the permissions or other user-related settings.
If only certain browsers are affected: please tell us all of the necessary information about this affected browser: browser and version, installed extensions or plug-ins (e.g., adblockers, translation tools, etc.), and operating system and version.
If something occurs only under certain circumstances/for certain elements (pages, communities, devices, etc.): any information that points to this will help us. This can relate both to the element in your Haiilo and to the affected devices. If you have already noticed differences from other devices, then you're welcome to tell us about these. Direct access to your Haiilo is also always very helpful to us in these cases.

Add optional CCs. Only users with accounts in Haiilo's Service Desk can send and receive responses. You shouldn't add a user who doesn't have an account as cc, as they cannot participate in the discussion.
Enter a subject for your ticket that shortly describes it
Enter the description of your question or issue. Be as detailed as possible.
An Issue request is given a priority. A service request ticket has no priority. Our terms of use determine the definition of priorities, and our team reserves the right to make changes if a priority has not been set correctly. Please choose a priority using the following criteria:

Low: A service is running without restrictions in terms of functionality, quality, or performance. General inquiries or another type of problem.
Medium: A service is running with limitations but is nonetheless available, or a workaround exists.
High: A service or an individual component of the service has significant quality limitations.
Blocker: A service is completely down, business-critical applications are unavailable, no workaround exists.

Choose the module that you're using and that is affected. It's alright if you're unsure about your module, choose one, and our team will be able to make any necessary corrections later. The modules of Haiilo are:

Modern Intranet
Engagement Surveys
Employee Advocacy
Multichannel Communication

Add attachments. Providing a screenshot or screen recording can speed up the investigation of your request.
Submit your ticket, and our team will get back to you as soon as possible.
View the progress of a ticket
You can see your requests under My requests. The tabs Requests I am CC'd on and Organizational requests are an overview of the tickets to which you have either been actively added or which have been created by someone in your service desk organization.

To be notified via email of new tickets created by other users in your organization, you can select Follow organization in the Organizational requests tab.
When a ticket is processed, it's given one of the below statuses:
Open: a newly created ticket or a ticket answered by you. This means we're working on responding to your request and are possibly conducting tests or consulting our colleagues. 
Awaiting your reply: if we're waiting for a response from you. If your ticket has this status, we need further information from you. You can always see exactly what it is that we need to proceed in the ticket itself.
Solved: a completed and resolved ticket. You're welcome to reopen the ticket within 14 days if you still have any questions. To do this, simply reply to the ticket again.

Service request tickets are automatically closed after 30 days of no response from the customer side.
For issue request tickets, we automatically ask for a status update from you after 30 days. If we don't receive an update after another 5 days, we will automatically close these tickets as well.
Tickets that have been closed for more than 14 days cannot be reopened, but you can create follow-up requests based on them.