We are the Haiilo Customer Success Team and we are here for you whenever you need assistance.
Please find out how we work, how you can create the perfect ticket, and what goes into a ticket in this article.
General
Each of our customers is entitled to support from Haiilo. You can customize the number of accesses to the service desk and how fast you get answers according to your needs. That's why we have developed our service packages.
Your tickets will be processed during the support hours from Monday to Friday between 09:00 and 18:00 (CET). In order for us to process your requests in the fastest possible way, we recommend including as much information as possible in your ticket from the beginning.
Access
Our service desk is located directly in our Support Center and can only be used with a login.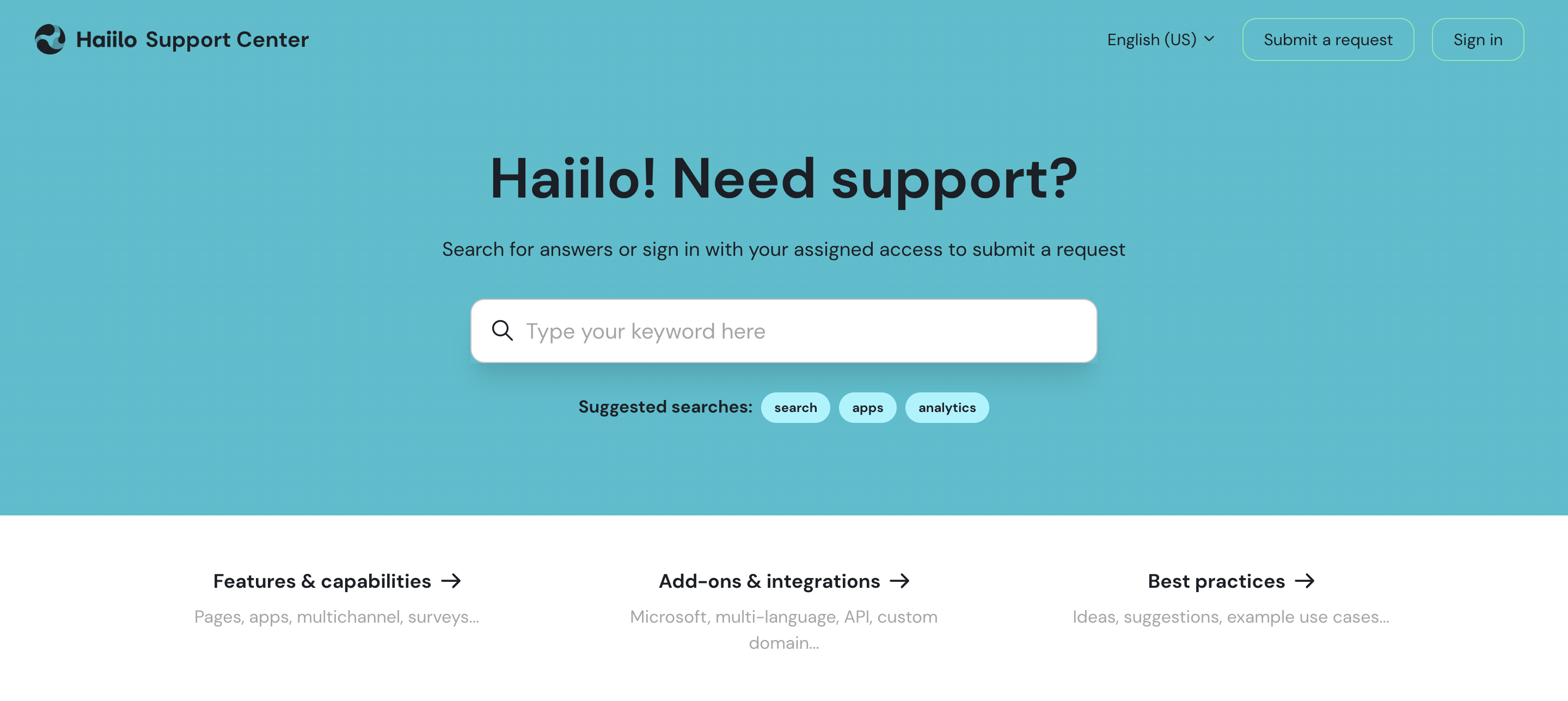 When you purchase Haiilo, you will be assigned service desk accesses according to your service package (one for basic, three for bronze, five for silver, and ten for gold).
Once you have set your password via the automatic registration email (don't worry, we'll send you one!), you can start asking questions and/or reporting problems. If you have booked a service package that has multiple support users, you will automatically be assigned an organization in the service desk. In this case, your tickets will be shared with the rest of the organization and everyone will have access.
Access to view your organization's tickets (i.e., tickets submitted by other users in your organization) will not be available for Employee Advocacy customers initially.
Create a ticket
Please only create one ticket per question or problem. The advantage of this is that it enables you to keep track of previously answered queries. This can save time in the future if a similar issue arises, as you can refer back to the resolved inquiries to quickly find the appropriate solution.
To create a new ticket, you must first log in to the service desk. To do this, simply click on "Sign In" in the upper right corner of the Support Center. You log in with your e-mail address and password. Then click on "Submit a request" to open a new ticket.
You will find your created requests under "My requests". The tabs "Requests I am CC'd on" and "Organizational requests" are an overview of the tickets to which you have either been actively added ("Requests I am CC'd on") or which have been created by someone in your service desk organization ("Organizational requests").

Ticket types
When creating a ticket, you first select a ticket type. The better you estimate your request, the faster we can help you. There are two ticket types available:
Use this ticket type if you need any service outside of reporting a problem. This includes, for example, questions on the product and its functionalities, licensing, who to contact, etc. The more details you provide in your questions, the better we can answer them.
Use this ticket type if you want to report problems with Haiilo. Seeing an error or strange behavior in Haiilo? Let us know!

Also, if you have already identified any of these circumstances, please provide us with the above information directly:

1. If a red error message appears at the bottom left

If you see a red error message in the bottom left-hand corner within Haiilo, it would be hugely helpful for us if you could create and attach a HAR export of the behaviour. You can learn how to do that here.

2. If only certain users are affected

If only certain users are affected by a malfunction, please tell us who the users are who have noticed the behaviour. This way, we can directly check the users by accessing your Haiilo. There are often inconsistencies in the permissions or other user-related settings.

3. If only certain browsers are affected

If only certain browsers are affected, please tell us all of the necessary information about this affected browser:

Browser version (Chrome, Firefox, etc., incl. the current version)
Any installed plug-ins (Ad Blocker, translation tools, etc.)
Operating system version (Windows, macOS, etc.)

4. If something occurs only under certain circumstances/for certain elements (pages, communities, devices, etc.)

If a partial malfunction occurs in your environment, any information that points to this will help us. This can relate both to the element in your Haiilo and to the affected devices. If you have already noticed differences from other devices, then you're welcome to tell us about these. Direct access to your Haiilo is also always very helpful to us in these cases.
After selecting your type, please fill in the information about your question/problem. Then, the most important part of the ticket creation process is to select the module that is affected:
Modern Intranet
Engagement Surveys
Employee Advocacy
Multichannel Communication
It's alright if you're unsure about your module. Just go ahead and choose one, and our team will be able to make any necessary corrections later.
Ticket statuses
When a ticket is processed, it is given one of the below statuses:
Open: a newly created ticket or a ticket answered by you is given the status "Open". This means we're working on responding to your request and are possibly conducting tests or consulting our colleagues.
Awaiting your reply: if we're waiting for a response from you, the ticket is given the status "Awaiting your reply". If your ticket has this status, we need further information from you. You can always see exactly what it is that we need to proceed in the ticket itself.
Solved: when the work on the ticket has been completed, we'll set the ticket to the status "Solved". You're welcome to reopen the ticket if you still have any questions. To do this, simply reply to the ticket again.
Ticket priorities
A ticket of the type "Issue request" can be given one of four ticket priorities. A service request ticket has no priority. Please select these using the following criteria:
Low: A service is running without restrictions in terms of functionality, quality, or performance. General inquiries or another type of problem.
Medium: A service is running with limitations but is nonetheless available, or a workaround exists.
High: A service or an individual component of the service has significant quality limitations.
Blocker: A service is completely down, business-critical applications are unavailable, no workaround exists.
The definition of priorities are determined by our terms of use, and our service team reserves the right to make changes if a priority has not been set correctly.
FAQ
If you have forgotten your password, you can select "Forgot password?"

on the login page of our service desk. You will receive a mail to change your password.

Please note the following password requirements:

At least 5 characters long
Less than 128 characters
Must be different from the e-mail address

If you need to change your password, you can select "Change password" in the upper right corner underneath your profile picture after logging in to our service desk. Then enter your current password and the new one twice.

Please note the following password requirements:

At least 5 characters long
Less than 128 characters
Must be different from the e-mail address

If you have booked a service package for your Haiilo contract, you are entitled to have several accounts within our service desk. All your company colleagues are assigned to the same organization and can thus view any ticket that has been created. This is an automatic process.
To enable email notifications, you will need to click the "Follow organization" button next to your organization in the "Organizational requests" view:

To keep our service desk tidy and organized at all times, we have certain automations in place. One of these automations ensures that tickets with the type "Service request" are automatically closed after 30 days on the customer/partner side, as long as no further feedback for the ticket has been received by then. For tickets with the type "Issue request," we automatically ask for a status update from you after 30 days. If we do not receive an update after another five days, we will automatically close these tickets as well.

Closed tickets can be reopened within 14 days after closing by an update from you.

Tickets that have been closed for more than 14 days cannot be reopened, but you can create follow-up requests based on the tickets with one click.

If your browser doesn't support cookies (first & third-party) for our service desk then logging in won't work. Usually, it is enough to create a cookie exception for our URL.
Access to the service desk must always be created with a personalized e-mail address, which is traceable to the user.