The most important metrics from your entire Haiilo platform are quickly and easily available with our add-on, Haiilo Analytics. With Haiilo Analytics, you can learn to understand how your users utilize and engage with your platform.
Haiilo Analytics currently only works with our "Modern Intranet" module.
Activation
Haiilo Analytics is a paid add-on. If you want to add the add-on to your subscription, please contact your Haiilo Account Manager.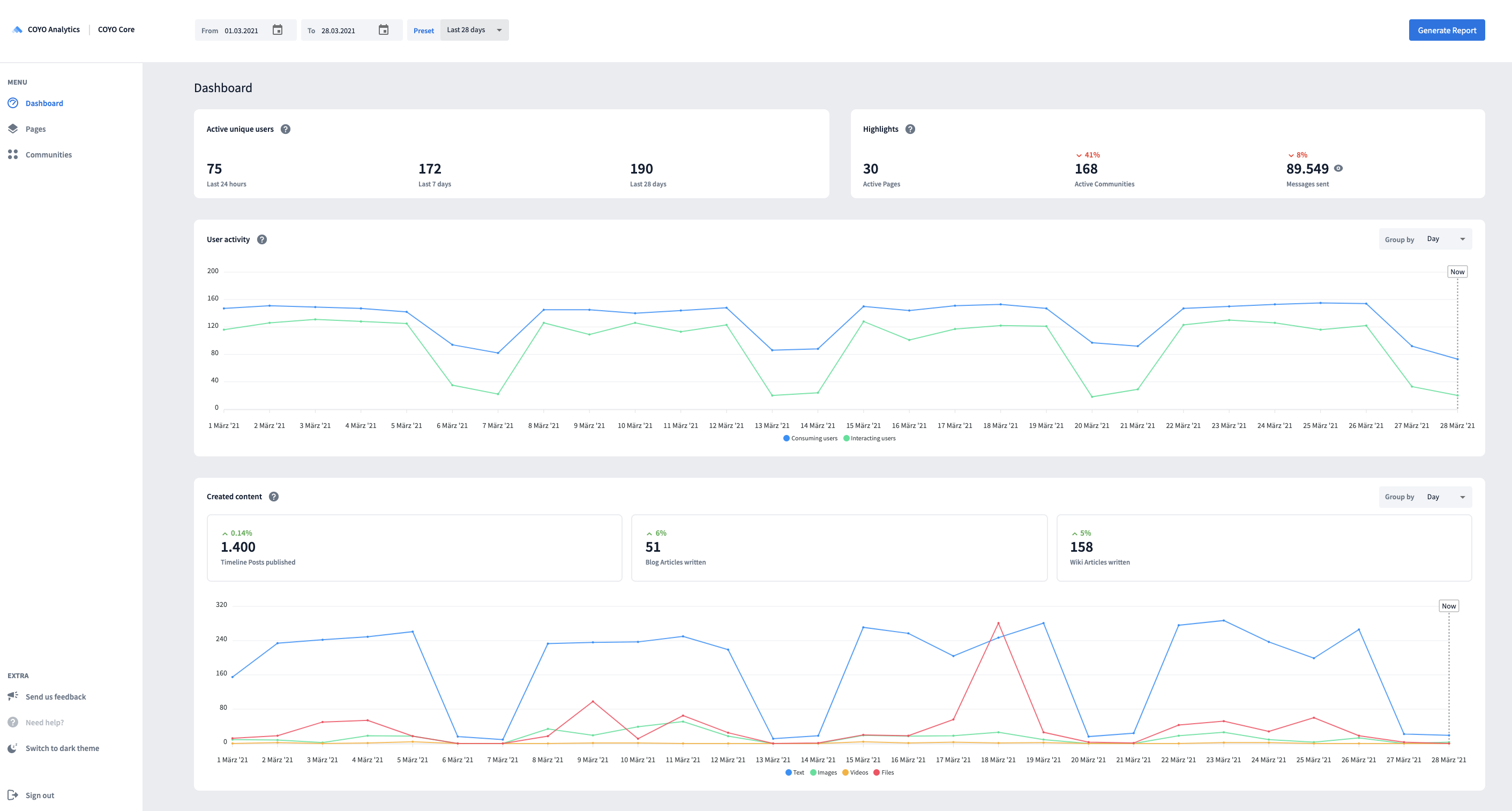 Access
Once the add-on is enabled for your Haiilo, you decide which user should get access to your Analytics via your roles and permissions. The "Analytics Admins Access" permission gives users full access to the Haiilo Analytics dashboard and all its features.
It's important to keep in mind that all posts and pages, even private ones, are being evaluated for Haiilo Analytics. That's why it's crucial to carefully consider which user should be given access.
Users with permission to access analytics can navigate to the analytics via the "Analytics" option in the user dropdown menu in Haiilo: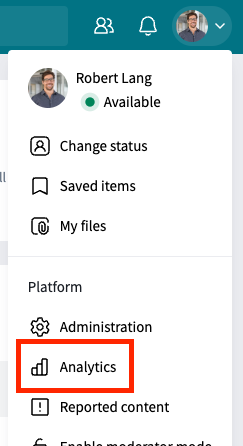 Alternatively, analytics can also be accessed via the link https://cloud.coyoanalytics.com/.
Features
In the Haiilo Administration, there are already reports that give you an overview of your active users and created posts. However, these reports only scratch the surface. With Haiilo Analytics, you can now also find out precisely which post has performed well, how the reach was and what content goes down best with your users.
The primary dashboard gives you a clear overview of all relevant numbers. You can independently choose the period that you want to take into account. As a further option, you view the performance of individual Pages and Communities.
We know that not everyone should have access to all figures, so we have integrated the function that you can export reports. This allows you to provide each of your admins or editors with Excel files without giving them access to the entire Haiilo Analytics dashboard. Each of your colleagues can thus make content available in a targeted way and increase the interactions on their Page or Community.
Safety first
Your security is important to us: Haiilo Analytics is GDPR compliant. The data is encrypted and pseudonymized. The data flow is secured with SSL and, by default, encrypted according to AES256.  We can thus offer you a secure and scalable solution to evaluate platform.
Analytics Manual
Our complete Haiilo Analytics documentation, including explanations of the KPIs, reports, and more, can be found here.