The forum app in Haiilo is used to address certain questions and topics and to discuss them with several people.
Create a thread
You can add the app to your page or community via "Create app". The prerequisite for this: You are the admin of the page/community or you have global admin permissions. 
"Create a new thread" allows you to create a new thread. Each member of your page or community can create a new thread.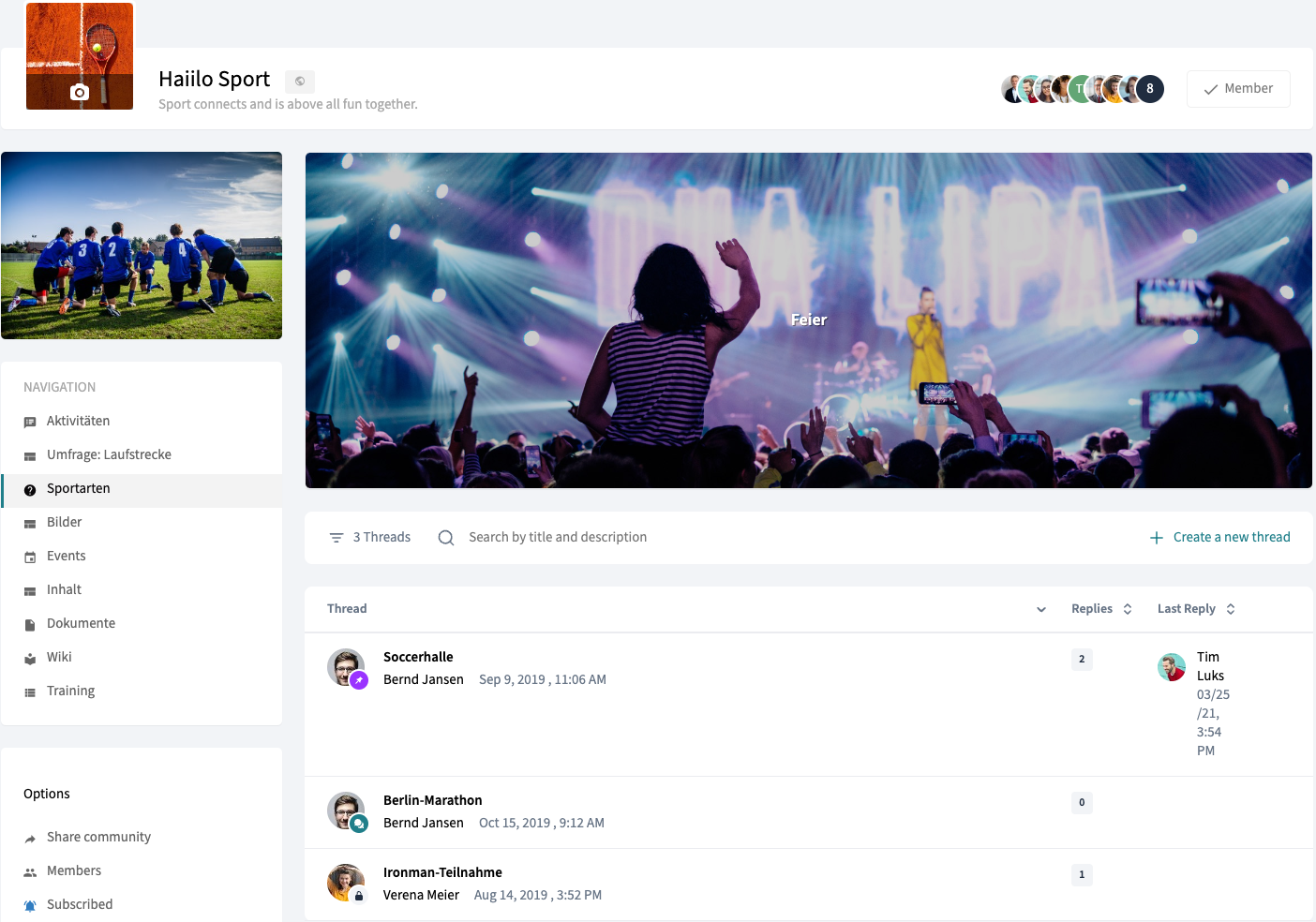 You then simply give your thread a title and describe your concern or goal. Select "Publish thread" to create the thread.
A forum thread cannot be edited after it has been published.
Highlight a thread
You can highlight threads by pinning them. A pinned thread is always permanently anchored to the top of the overview, regardless of the other threads.
Thread status
A thread can have one of two statuses: open or closed. The author of the thread or an admin can close a thread at any time. This can be done either directly in the post or in the overview via the three dots. Behind the title of a thread, you can always see the current status. Once a thread has been closed, no more replies can be added.


Answer a thread
You have the formatting options of a rich text editor available to you in the forum, as the answers can be detailed. You can also add images and videos here if they strengthen your argument.
It's not possible to share or like forum posts, or mention a colleague in an answer.
The community admin or their creator can delete individual titles in a forum. Regardless of whether the discussion is still "open" or has been marked as "closed".
Note:
If you delete an answer from a forum post, the content is removed, but a note indicating that there used to be an answer there is left in its place for better clarity.
Change sorting
You can sort the topics according to your needs. When you click on the title of the column, you change the sorting – however, always only within the categories (pinned, open, closed).
Notifications
The following actions in the forum app trigger a notification:
New topic is opened: Admins & all members.
A response to a topic: Only the topic creator. 
Additional responses are added: The topic creator & all those who have already responded.
Examples
Generally, for all areas in which you rely on knowledge from the group or in which you require different viewpoints on a subject. In practice, these use cases are particularly common: 
A help forum in which answers from the crowd lead to a result

An FAQ forum in which the employees ask their questions on certain topics

When a team needs to agree on a certain approach

When users want to gain advice