The timeline is a digital pinboard on which users can interact and provide each other with information. Timelines are available to you globally on homepages, on your profile and as an app within pages, events, and communities.
How it works
The app supports you by:
Communicating: Users can create posts, comment on them, and like them. This promotes a communicative exchange between users. 
Collating: It collects and makes all current and new posts available for the user to see and react to easily
There are some differences in how the timeline app works on different sections of Haiilo:
On the homepage
The homepage is what every user sees when entering your platform. No two users' homepage timelines will look the same. The timeline only contains the information that corresponds to the individual user's interests. This information is compiled from
pages that the user have subscribed to, 
communities in which the user is a member,
events that interest the user,
posts that are posted to the user's timeline.
The timeline has a chronological structure and is based on the time that posts are created. The sticky posts are always right at the top as they are pinned to highlight important information. If an old post is shared again, this post also appears further up.
In pages, communities & events
In pages, communities, and events, the timeline supports user communication and summarizes what is currently happening for the members and participants.
On a user's personal timeline
A user's personal profile also utilizes the timeline. Users will only see timeline items that concern them personally or what they themselves have posted in the dialog field:

In general, the following postings are shown:
posts from others that you have shared
posts that others have posted on your timeline
posts that you have created
Visibility
The visibility of a timeline post depends on where it is published and can't be determined in the post itself. Here are two examples to make this behavior clearer:
If you're publishing a post in a public place, the post can also be seen by everyone
If you're publishing a post in a protected/private place (e.g., community), the post can only be seen by a limited group of users
Places in which timeline posts can be created
The timeline is available as an app (for pages and communities) and as a widget (e.g., for homepages). Every event also has a timeline. As a result, a post can be created or shared in the following places:
Page
Community
Event
User profile
User profiles are generally public, i.e., visible to everyone. The visibility settings for pages, communities, and events can be seen in the respective articles.
Special case: Timeline widget
The timeline widget (on the homepage) is a personal widget. The content is based on the user and is taken from different elements:
Pages, communities, and events that the user has subscribed to

The user's user profile timeline

Other user profiles that the user follows
Strictly speaking, it's not a place where new timeline posts are created. If the user posts something here, the post is actually created on the person's own user profile timeline.
Format your timeline post
It's possible for you to format and structure your posts in Haiilo with markdown. You can do this, for instance, with comments or timeline posts. Formatting allows you to improve clarity or make sure your posts attract more attention. This gives you the option of highlighting or particularly emphasizing what's important to you.
You can use, e.g., bold, italic, or struck-through text. To learn how to use markdown, simply click on the question mark symbol below the text field.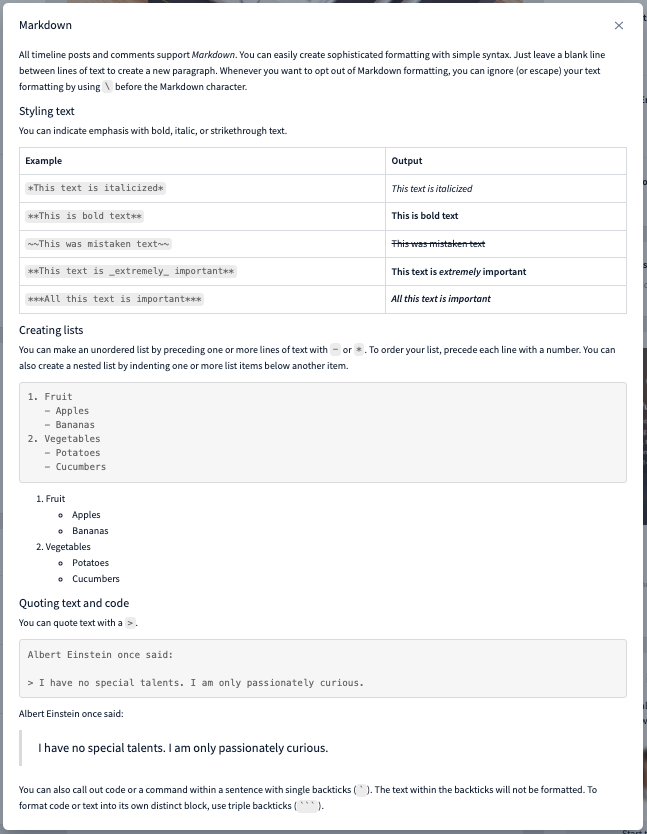 Notifications
Users do not generally receive notifications in Haiilo when a timeline post is created in a community or page. For subscribed pages and communities, the new post appears in the global timeline.
Only when you comment on a post do you subscribe automatically to the post and then receive notifications about the actions of other users (e.g., new comments from other users). If you are the post's author, you receive notifications about new comments and when you are mentioned.
If you don't want to comment on a post but still want to follow the discussion, you can subscribe to the post from the bell icon. Once you activate this, you always receive news about this post in the notification bell in the navigation.
Permissions
An example configuration for users (left side) and admins (right side) could look something like this: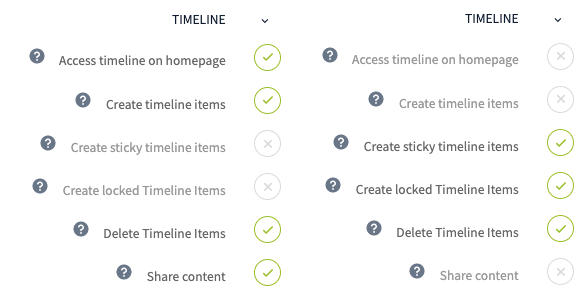 A user with the above permissions can perform all key actions on a timeline: Creating and deleting posts and sharing content. They can use their own timeline but also post on other timelines, e.g., on those of pages, communities, homepages, or other users.
Your admins should have permission to create what are known as sticky posts. They "stick" or pin to the top of the user's timeline until the user confirms that the post has been read. Admins should also be assigned permission to publish a "locked post". Users are unable to comment on or "like" this post.
Sticky
Haiilo offers the option of making a post mandatory for everyone. The "sticky" function is used for this. This post is then pinned at the top of every user's timeline
for a period of time
. To remove a sticky post again, the
user
must be
active
and set the post to read by clicking on the option.

You can set a post back to "un-sticky" later on. Select the corresponding function on the post and set it back to the normal post status.

To create a post with the "sticky" function, you need permission to "Create sticky timeline items". Please have an administrator check whether you have this permission if you can't see the option when creating the post.
Posts on timelines can only be set to "sticky" when created. This has been designed intentionally to prevent ancient posts from suddenly being set to "sticky" and thus appearing further up. If you want to bring an old post back into focus, you can share it and set this new post as "sticky" when you share it: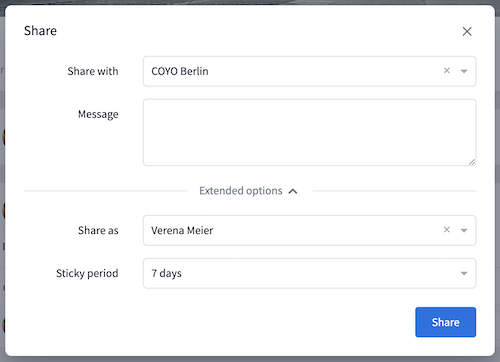 Like
The "Like" function in Haiilo has a visual effect: other users can express their agreement with a "Like". Anyone with the permission "Access and add likes" can assign a "thumbs up". Ideally, the permission "Access timeline on homepage" is also allocated so that your users can also react to posts and not just blog articles.
Subscribers or authors do not receive any notification when users "like" the post. This could lead to an excessive number of notifications. Notifications are only created for new comments or named mentions via the mentioning function (@+name of user). Those who press "like" also don't receive any notifications when another person "likes" or comments on the post.
Mention
Basically, where comments are possible, you can also mention other users. To activate the function, all you have to do is type in an @ sign. This will open a drop-down list of all the users in your network. The more characters you use, the smaller the selection. In the flowing text, the link of the colleague is displayed as a hyperlink, and the person in question also receives a notification.