Communities are a simple way to allow several people to collaborate on a topic, project, etc. They can be created in just two steps.
Curious about how communities differ from pages? The article "Difference between pages and communities" will help you.
Create a community
You can easily create a new community in the "Community" tab by clicking the button "Create community".
If you can't see this button, you should check if you have all the necessary permissions for this action.
A setup window will appear where you can fill in the information for your community:
Choose a

name

for your community that corresponds to your team or the project on which you are working. The name you select is used as the basis for the allocated

URL

. Every community thus has an individual name, and no name can be used more than once.

The description

gives you the option of offering more information and describing the aim of the project or your team in more detail. We recommend completing the field, but it is not mandatory.

By using a category, you can guide users in understanding the topic and intention of your community.

Users can filter according to corresponding categories in the community overview and

in the global search.

Y

ou create categories in the community overview, provided you have permission. While creating a community, you can only select existing categories.
Adding admins is (almost) self-explanatory:

only users who are admins of the community are allowed to make changes to it.

You can decide who should be able to manage the community.

As the community creator, you are automatically an admin.

With the help of the visibility settings, you determine who is allowed to join your community. Communities are based on voluntary participation. You can invite members but can't force someone to be a member of the community. There are three options for visibility:

Public communities

and their content can be seen and found by all users in the search. Any user can join a public community.
Protected communities

can be seen and found by all users in the community overview. However, the content is only visible to members of the community. Users can

request access

or be invited. The community admin decides whether a user is allowed to join the protected community.
Private communities

and their content can only be seen by its members. People need to be invited by an admin to join. The community cannot be found in the community overview or by search.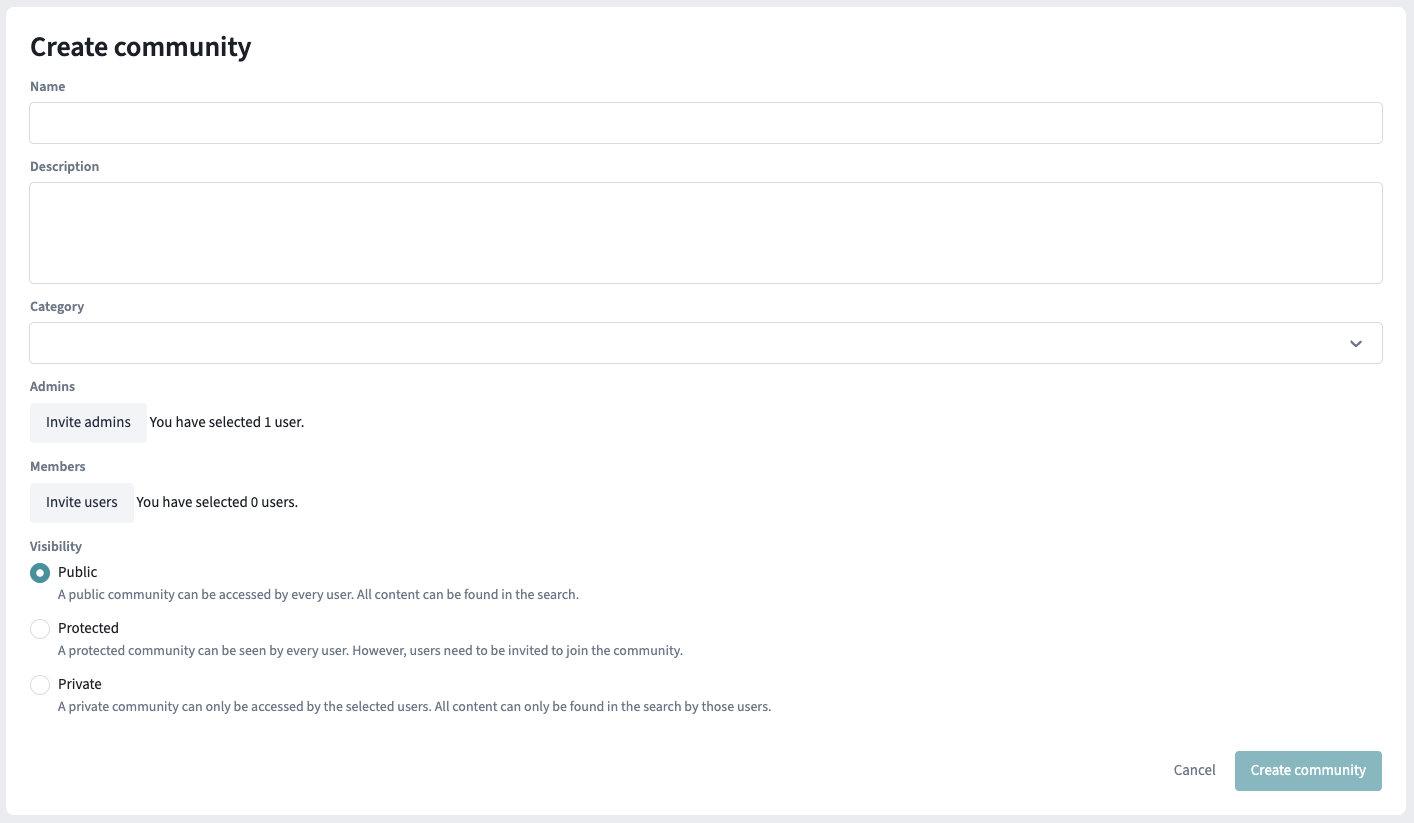 You need to be subscribed to the community to receive notifications from it. The default setting is that a user automatically subscribes to a community when they join. The bell icon shows you the current status: If it's blue, you have subscribed to the community and will receive notifications. Users can unsubscribe from a community to not receive notifications, but they will still be a member of the community unless they "End membership."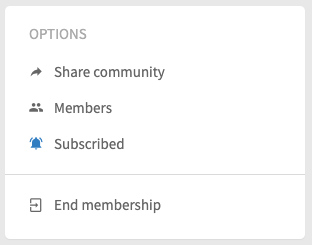 Example use cases
There are no limits to what you can use communities for – anything's possible! However, to help you get started with Haiilo, we have put together a few typical examples for you in this article: Get started with communities in Haiilo.
Archive or delete a community
If you are an admin of a community, you can archive or delete a community at any time.

Archive
An advantage of archiving a community is that its content remains accessible to all users, but it receives a visible "Archived" indicator showing it's no longer active. This helps users recognize that they shouldn't actively engage with it anymore.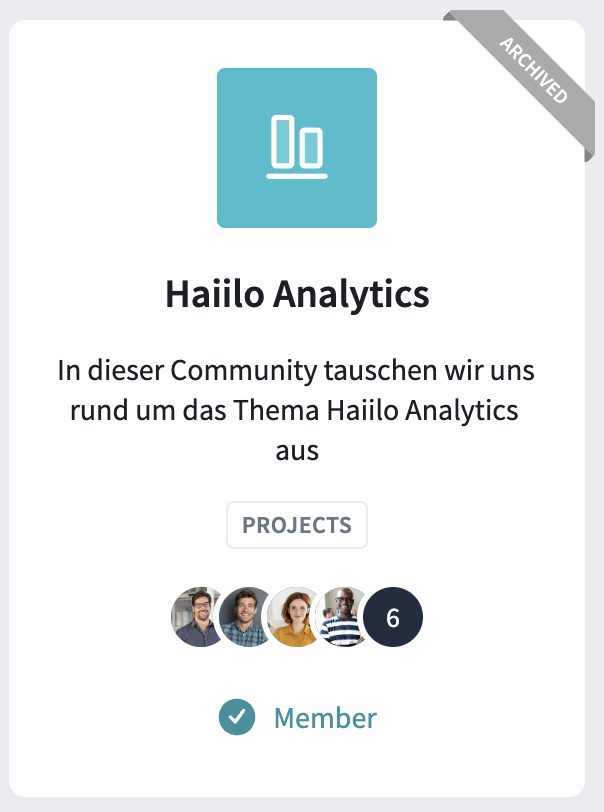 To archive a community, navigate to the community settings and check the box for "Archive community". Afterward, users can still find the community by searching or filtering by "Archived" in the community overview, and they can interact with the community as usual.
Delete
Since an archived community can still be used to its full extent, if a community is no longer to be used at all, it can be deleted instead. Deleting a community removes all apps and content associated with it.