Admins of a page or community can equip it with additional functions. We call these functions apps. Apps can, for example, manage documents or display wikis.
Each app's own features and use cases are explained in its own article. 
To be able to add and edit apps, users require the "Create and manage apps" permission. This is available for pages and for communities.
Manage apps
You can find an overview of all available apps in Administration > Features > Apps. You select which apps you want to activate for use on pages or in communities. You can also determine if the app can only be managed by moderators.
You require the "Access to Administration" + "Manage apps and widgets" permissions to access the above settings.
New apps that Haiilo introduces are initially deactivated by default. You need to add a checkmark for the apps to make these usable.
Add apps
On pages and communities, select "Add app" in the menu to add an app. If you are creating a new page or new community, you can also add apps using the "Add the first app now" button.
Once you click on one of the stated options, the catalog of all available apps will open. You select the app that you want to add and are then taken to the app setup. There, you can specify the name and link to the app or authors, among other things. Depending on the app, there are different settings available to you.
Want to make changes to an existing app? Navigate to the app settings. Once you hover over the app with the mouse, a context menu appears via which you can reach the settings.
Group and order apps
If you have multiple apps in a page or community, you might want to use app groups. App groups allow you to group and sort the available apps in a logical manner, e.g., by a wider topic such as General, Documentation, Team information, etc. This will help users find the app and content they are looking for faster.
A page or community always contains one app group named "Navigation" at first. All added apps end up here. To create another app group, select "Add group". A new group is added below the first one. You can rename the default and new app groups according to your needs.
You can then drag & drop to move and order the individual apps between the groups. Simply hover over the app and click and hold on the two arrows symbol. Then drag the app to its desired place.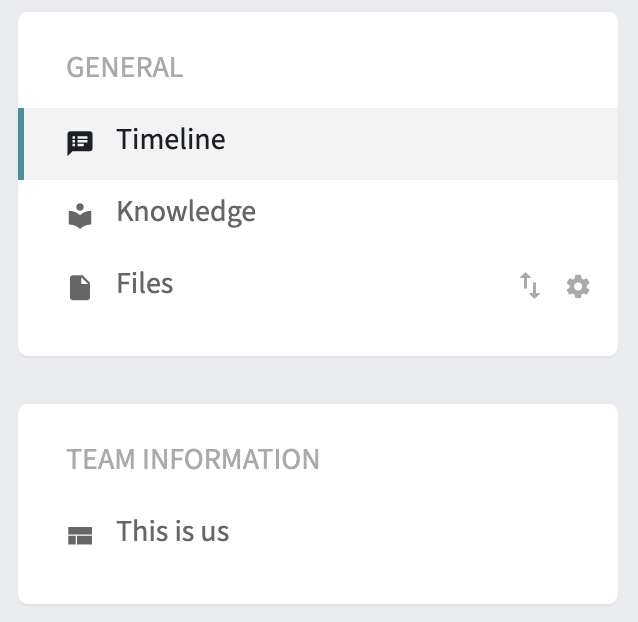 Moving apps between different pages or communities is currently not possible.
Deactivate apps
Uncheck Activate this app in an app's settings to deactivate the app.
If an app is deactivated, it's immediately no longer visible to users. Only admins of the respective page or community can access the app or its content. The content is retained in the background and can be found via the search. If the app is reactivated, the app is available to all users once again.
Example use cases
As you already know, every app has its own features and use cases. We have put together a few examples of the most common use cases for you below:
Blog: Publishing news, background stories, and detailed information, e

.g., intranet news, management update blog, meeting minutes

Timeline: Publishing short posts for quick communication (noticeboard), e

.g., updates, discussions in projects and teams "Hey team! Can someone help with..."

Content: Presenting stylish layouts, themes, and clear structures, e

.g., history of the company, an overview of contact persons, magazine

Wiki: Presenting comprehensive and text-heavy information in articles and chapters, e

.g., handbooks, FAQs, glossary

Tasks: Distributing tasks and collaboration in teams/projects, e

.g., to-do lists, deadlines, areas of responsibility

Events: Inviting to company events and informing users, e

.g., conferences, company celebrations, seminars

Forum: Creating discussions and opportunities for assistance and boosting collaboration,

e.g., ideas management, suggested improvements

Form: Organizing content and gathering feedback,

e.g., order form, registration form, applications, surveys

List: Organizing an overview of content, e

.g., ordering office supplies, accounting, vacation planner, collections of topics

Documents:

Allowing for storage and simple collaboration on documents,

e.g., templates, policies, archive
You can use all of the apps (except the Timeline) numerous times on pages or in communities.