Acceptance through freedom
For many companies, a social intranet is also always a step towards cultural change. We often receive one question in this regard: How do we get our employees to really accept and use the new social intranet? The answer to this lies in the word "use". Only those who have a reason to regularly check in, perform actions themselves, and create posts are also motivated to log in every day.
Our recommendation: Bring interest groups to Haiilo
There are few people with whom you spend as much time as you do with your office colleagues. What could be more obvious than meeting privately now and again or organizing events after work? Whether a message board, a cookery course together, or participating in running events – many employees use private services for this.
So why not use shared interests to encourage everyone to use Haiilo together?
The prerequisite for this: Configure a liberal permissions and roles system within communities and events. You should also pick out 5-10 very active users who are willing to relocate their communication andinteraction onto Haiilo
This is what it could be like
What something like this actually looks like depends on the preferences of the employees themselves – elements that we often see and recommend in practice include: 
Timeline for general discussion between the members

Content app with surveys and media galleries

Event app to create events

Forum app for discussions relating to a certain sport or running tracks
To give you a better idea, we have created an example of a running group – however, this can be adapted however you like to suit other interest groups. 
Community for a sports group
The focus in this community is on discussions together with interaction functions ("Timeline"), creating events in which everyone can take part together, and planning activities e.g. surveys. As an additional element, teasers are ideal for drawing attention to exciting events if necessary.
Step 1: Timeline for interaction
For our example of a community for a sports groups among colleagues, we have integrated a timeline as a central element. Do you want to arrange the time and location of the next running training session or the next soccer match? This is no longer a problem with the timeline. All of the members can post and comment here, express their opinion, and ask questions. It allows you to simply act and react within the group to make arrangements in an efficient and transparent way.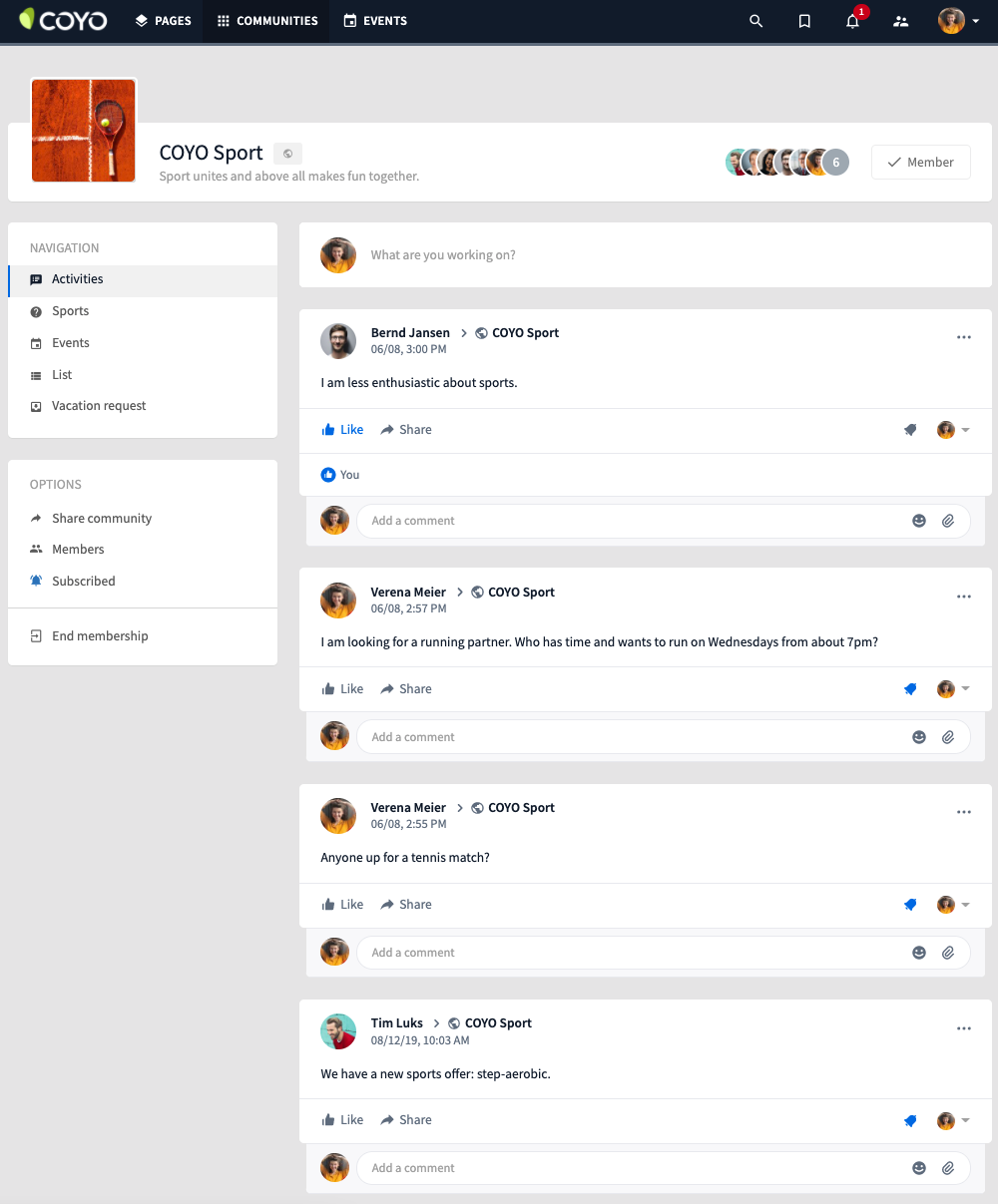 Step 2: Content app with survey widget
Does a colleague need to know lots of people's opinions in order to make a decision that is relevant for the community? You can easily carry out your vote in Haiilo with the survey widget. Ask a question and provide various voting options. Widgets then help you to see how many votes the individual items have received. You can also make it possible for participants to select several answers. This quickly gives you an overview of the opinion of the members of the sports group on what route the next running session should follow. The decision is also transparent and understandable for the other members of the community.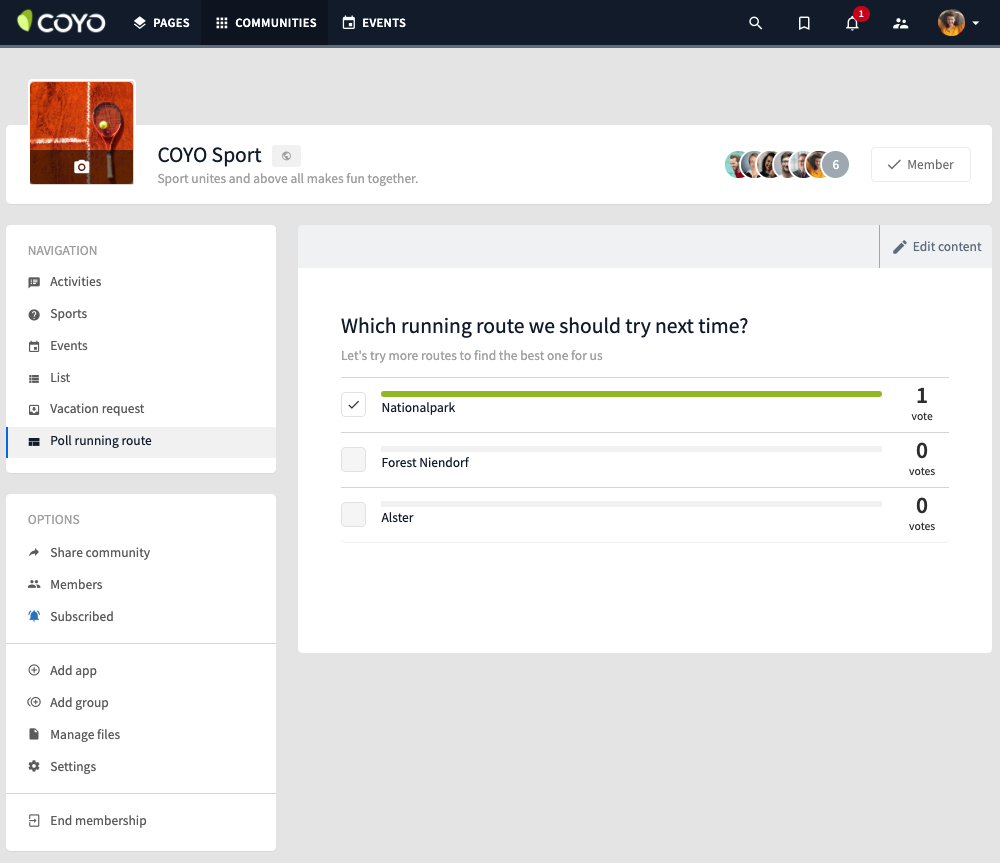 Step 3: Forums app for general information
The forums app offers the members the option of talking directly about sports or adding general information about the sport and the group. It could be used to discuss various soccer pitches and give recommendations, for example.  The topics can be closed at any time, such as if it's clear that soccer is played at the sports center every Wednesday at 7 pm. Advantage with the forums app: The topics are clearly arranged in one place.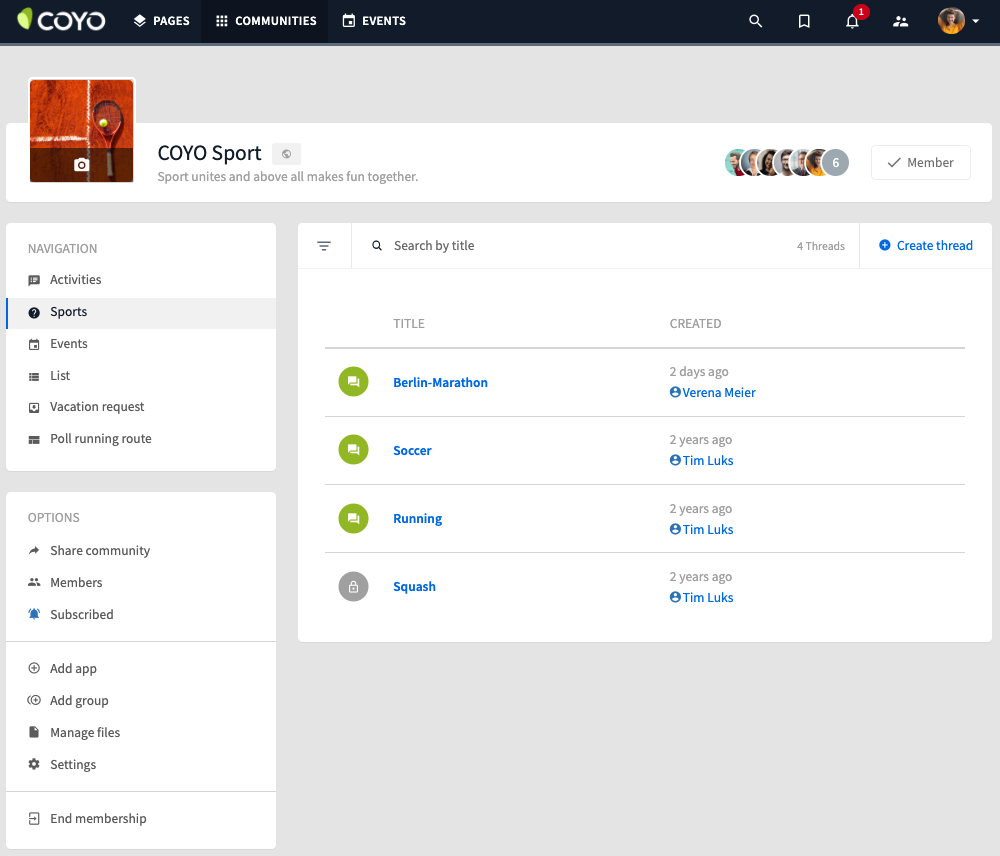 Step 4: Content app with the media widget for photos
Photos can be used to
document joint work and experiences
, especially if you present them clearly for your team within your community. The
media widget
will help you. It makes it possible to easily make photos, such as from the most recent marathon, available to all of the members of the running group. The media widget is a central collection point to make files accessible to community members at any time.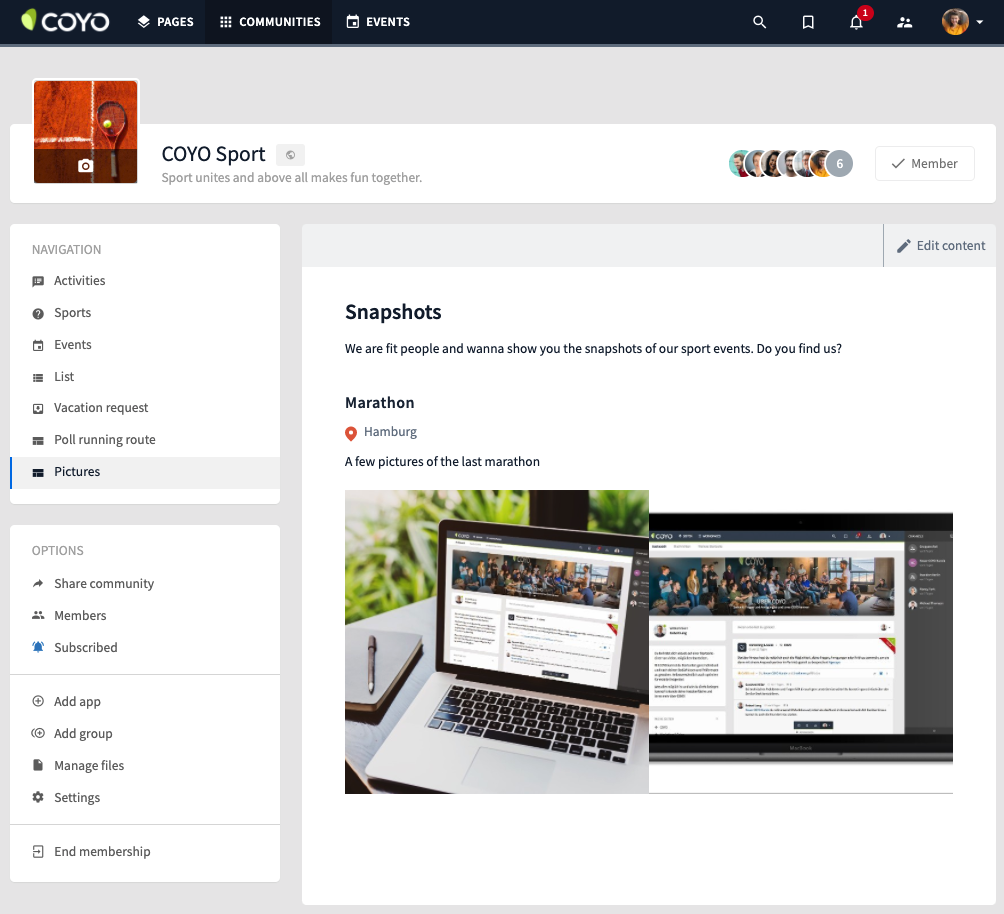 Step 5: Event app to plan events
Are you planning on
taking part in an event together
as a running group? You can use the
event app
to organize this within the community. In our example, the members of the running group want to take part in the Süderelbe half marathon together. By using the event app, the most important options for the upcoming event are clearly presented to the members of the community. You have the option of
inviting all members of the running group at once
, who can then confirm their participation or decline. In the event, anyone interested can ask questions about the agenda or organization, and other participants can react.
Information about this specific event can be found in one place
and does not get lost on the general timeline in the community.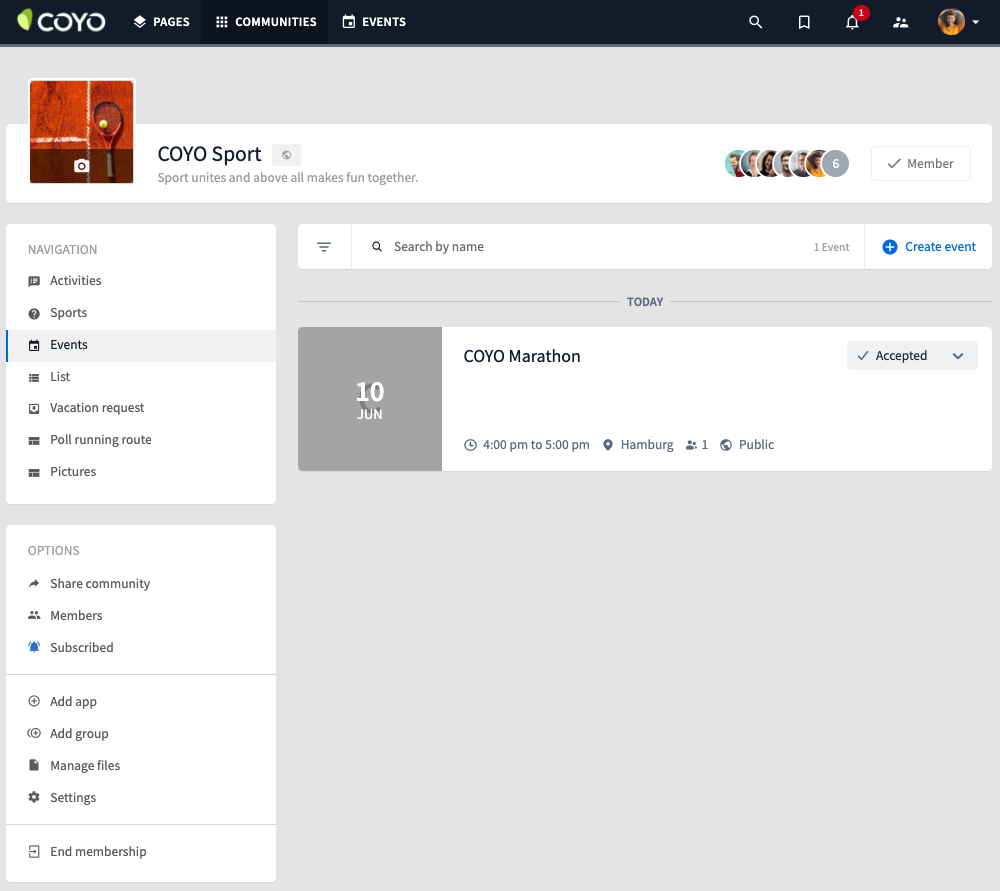 Bonus level: Global teaser widget for the community
Our example community also offers a feast for the eyes! The teaser widget draws attention to important information. If you have access to the "Edit layout" function, you can add the teaser widget for all areas. 
With an elegant slideshow, you can make the community more esthetically pleasing for the members. The teaser widget also gives you the option of adding emphasis: You can draw users' attention to special offers that correspond to the community, emphasize important news, or announce an important date. By clicking on the slides, the colleagues are then optionally guided to a new page inside or outside the interface. You have complete creative freedom with the teaser widget.