The login and logout of Haiilo are quite simple and are explained in more detail here.
Login
You can access Haiilo through a supported browser and log in through a login screen.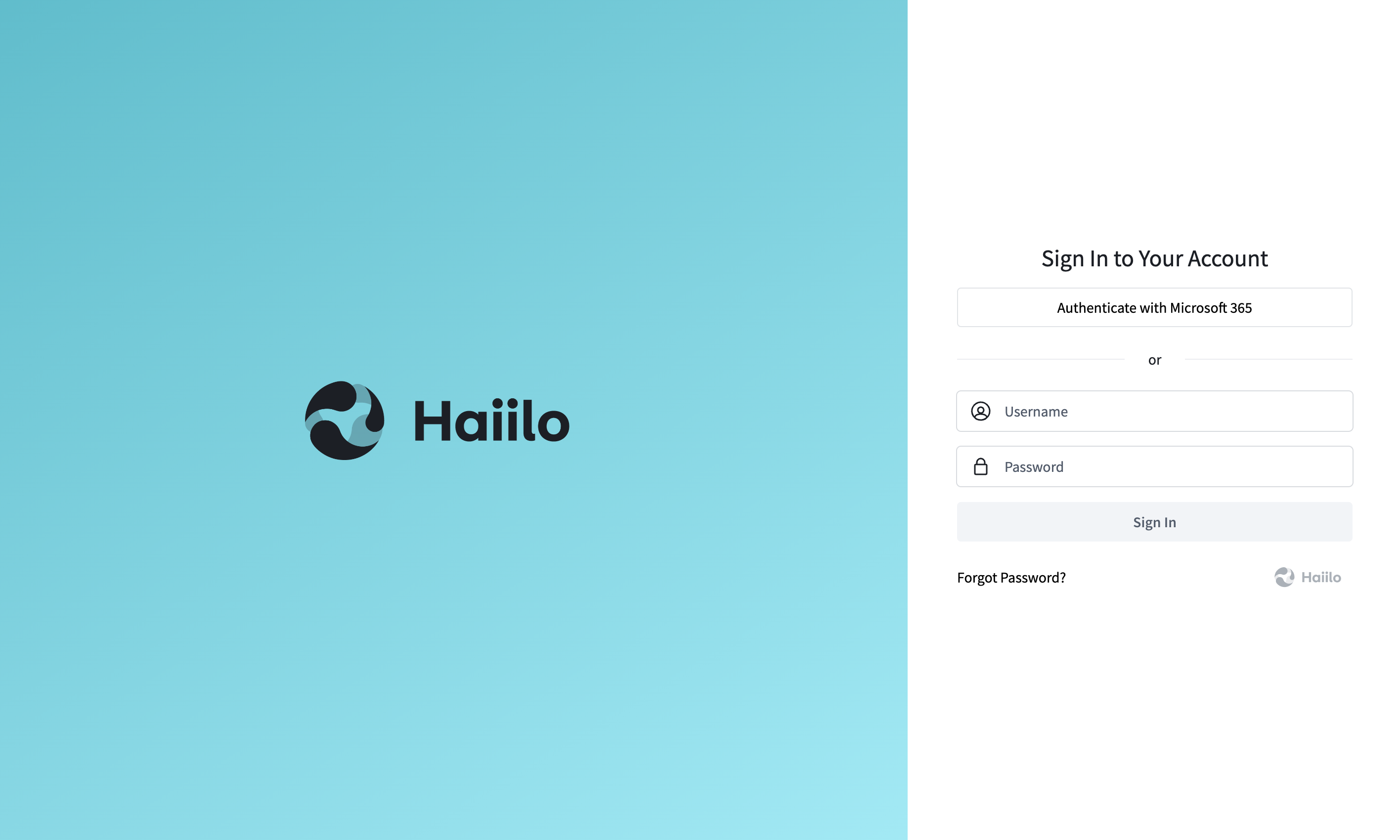 Haiilo offers different ways to login:
Registration via e-mail address and password. You should have received a welcome email with your access data before the very first login to Haiilo.

A single sign-on (SSO) process that does not require separate Haiilo credentials.
Please contact the administrators of your digital home if you have any questions about your Haiilo Home URL and the exact login procedure. Often, these are the departments within the company that manage Haiilo Home (e.g. IT, Communications, Human Resources).
Logout
If a user wishes to unsubscribe from Haiilo Home, he/she can do so via the "Logout " menu item.
Note:
Simply closing the browser is usually not enough for the user to be logged out of Haiilo Home as well.
With our cloud customers, logged-in users are also automatically logged out after 30 days. These 30 days count from the (first) login and are extended by the user's activities. This means that the 30 days count as pure user inactivity.
Note:
In rare individual cases, it may also happen that users are automatically logged out after an update of the cloud.
Possible issues
Haiilo is web-based software and can be accessed via any browser. If logging in doesn't work optimally, there may be various causes for this. However, it's often due to the browser settings and the selected network infrastructure.
You can find a guide for troubleshooting here. This allows around 80% of problems to be identified and, where possible, immediately rectified.
Tip 1: Log in using private/ incognito mode
Open Haiilo in the private mode of your browser and check whether logging in works there.
If Haiilo works perfectly in private mode, please delete the entire browser cache. Where possible, please also delete the form data. The cache is like your browser's memory and can be accessed via the respective browser settings. Logging in should then work again outside private mode.
What's the reason for that? Haiilo is browser-based and, depending on how your system's configured, different data is saved for different lengths of time. If, for instance, you make design changes or change something in the permissions and roles concept, you may not see the changes straight away. Or they aren't applied for you as the old session still exists in the browser cache. As a result, deleting is often the first solution.
Tip 2: Log in from another network
Problems during logging in can also occur if you have WLAN problems or you're using a VPN tunnel that isn't optimally configured.
Please test the behavior in another environment and with another Internet connection (e.g. with a mobile device). If Haiilo then works perfectly, the problem lies either with the lack of connection to the Internet or a blocking infrastructure. In this case, please contact your internal IT department.
Tip 3: Use another browser
Every browser behaves differently. As a result, an error that occurs in, e.g., Firefox may not occur in another browser.
So, please test logging in in another browser. If you need to report an error to our Service Desk, please be sure to let us know which browsers you have used to test the behavior.
Tip 4: Deactivate adblockers
Some adblockers (tools to suppress advertising on websites) are sensitive to components of Haiilo and can block elements. This can lead not only to impaired performance but also to error messages when logging in.
As a result, we recommend checking your adblocker. Either deactivate it for a short period or add an exception for Haiilo. You can control this via your browser's settings. Then please check the login behavior again.
Tip 5: Check URL
Does your browser show that the Haiilo URL is an insecure connection? This can be due to a URL entered by hand. Please check whether you have written "www." in front of the Haiilo URL.
A connection can only be established if no "www." is added in front of the URL. Here you can see an example of a correctly entered URL: https://example.coyocloud.com
Have none of these tips worked?
Don't give up hope! We'll be happy to help you. In this case, please create a ticket in our service desk.
Our qualified colleagues will assist you with troubleshooting. Please refer to this article in your ticket and state which
solutions you've already tried.