The Bookmarks widget helps you to provide your users with the most relevant links regarding a specific topic. Like always, you can rename the widget so it suits your use case best.
Set up the widget
You can configure the widget as follows:
Enter the URL you want to link to. For external sources, you need to enter the full URL, including https://. Locations within your platform can be linked beginning with the / after your platform URL (e.g., /pages/people-culture/apps/blog/people-news).
Select the small arrow on the right.
Enter a name for the bookmark.
Select the check right next to the bookmark's name.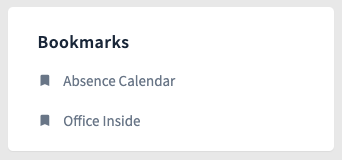 The following options are available when editing the widget:
Change the link by selecting the link icon on the left.
Delete one of your bookmarks by selecting the trash bin icon in the center.
Change the order of your bookmarks by selecting, holding, and moving the two vertical arrows at the far right.