Typical examples of using wikis include glossaries, policies, FAQs, and process descriptions. The wiki app is also often used in departments like IT or HR to handle processes or on-board new employees.
With the help of this article, we'll explain to you how you can integrate the app into your Haiilo, easily bring order and structure to a it, print single articles and duplicate them.
Settings 
If you are an admin and are on a page or in a community, select the wiki app under "Add app". Then make all of the desired settings.
Author: Who is allowed to publish articles in the wiki: Be sure to think about this in advance. Should everyone contribute or only the administrators of the element – both have advantages and disadvantages. The default setting is "Admins".
Home article: Do you want an article to be displayed first when you open the wiki app? This is helpful if you have an article as an explanation for the wiki app and would like to place it first.
Comments: Would you like feedback or reactions? Then activate comments and likes.

Depending on the requirements on the wiki, it is not always sensible to activate comments. The statement in the article can be weakened if colleagues start debating it. On the other hand, if the wiki intentionally aims to encourage discussion, e.g. the creation of a process, the comments can also be deactivated later on. The comments can only be seen by the app admins if this function is deactivated later on. If topics should be discussed in detail by your employees, it's worth integrating the forum app instead.

Hide author: Depending on how important it is to you, the author of the article can be hidden. Admins can always see the author.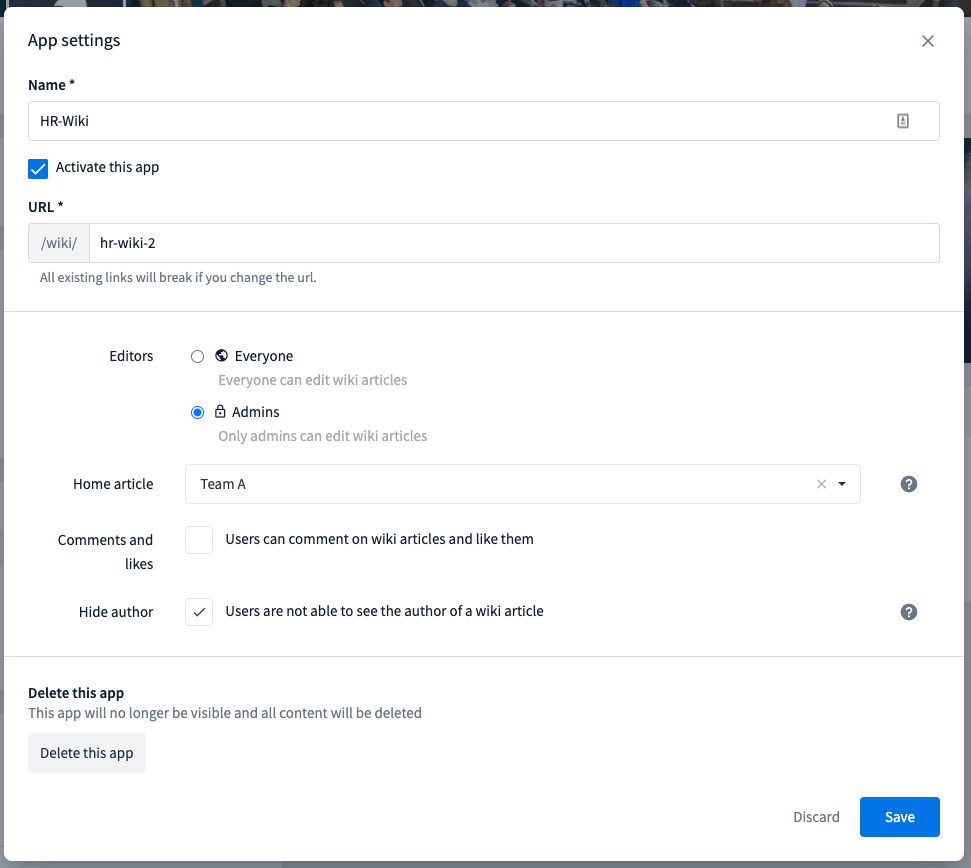 No further settings are necessary for the wiki app, so you can just get started and create your wiki articles.
Write articles & sub articles
A wiki is intended to allow your colleagues to find and take in information quickly and easily. As a result, we recommend that you do not simply create blocks of text, but instead create a wiki article that is as attractive as possible.
You can also add translations to an article if you have the multi language add-on booked and setup.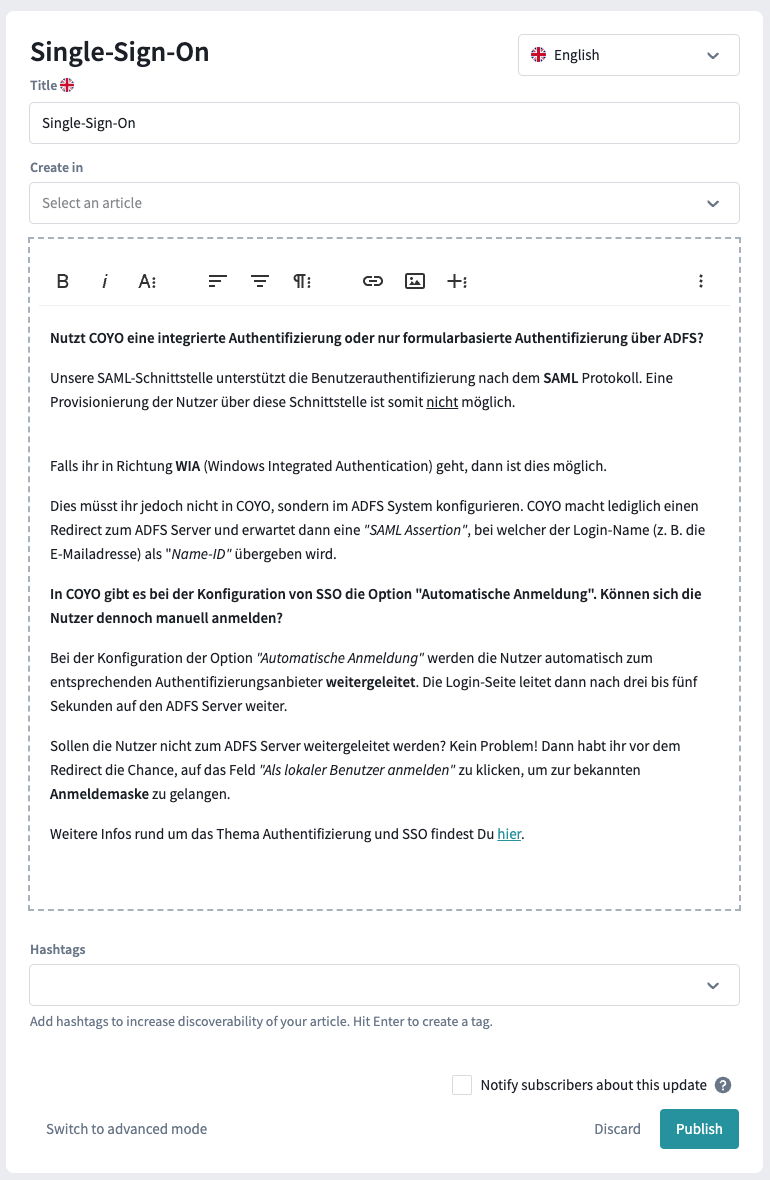 Sub articles
Whether an article should appear as a sub article can also be determined in the article itself. Under "Create in", you can select the main article under which the new article should be assigned. You remove this again with the small "x" and the article will become an independent article:

New sub articles are always displayed under the main article that they're assigned to. If you then move the sub article, new articles can nevertheless be identified straight away by the label "NEW".
The advanced mode
In "Advanced mode", you can illustrate the content by adding, for instance, graphic elements to the text. If you are adding a new article, you will see the option to activate advanced mode in the bottom left-hand corner.
Through this function you have the chance to extend a wiki article with widgets. There are no limits to your creativity. However, please make sure that the structure remains clear and structured. More information about widgets can be found here.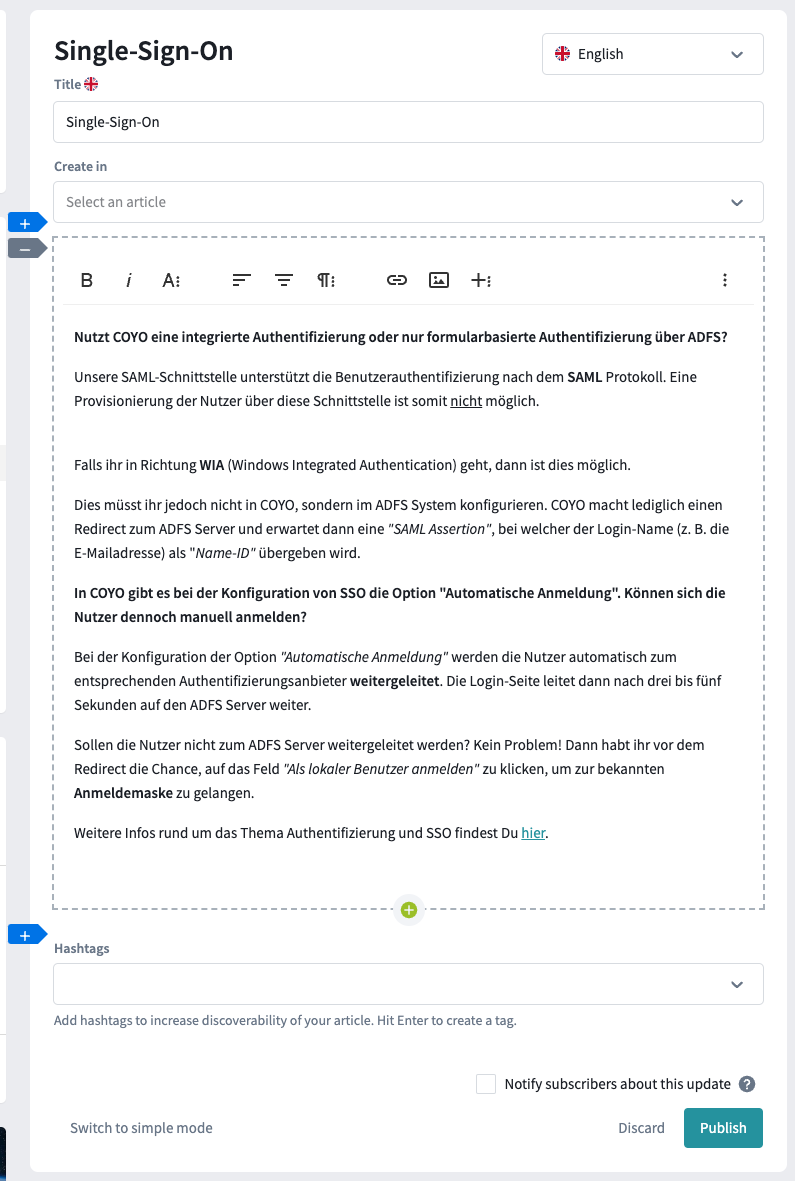 Hashtags
Similar to the blog articles, you can also add hashtags to wiki articles, which should, for example, make it easier to find them in the global search. In addition, the individual wiki articles are grouped on the basis of these hashtags (see "Related wiki articles" for more information).
Drafts
A user who has the permission to create a wiki article can also create it as a draft.

These draft articles can then only be viewed by users who have the same permissions for the wiki app. Currently, it's not possible to create sub-articles for articles that are in draft mode.
Notifications
When a wiki article is published, it generates a notification to all users of the respective location of the wiki app (e.g. members of a community or subscribers of a page).
This notification can also be disabled for already published wiki articles with the option "Notify subscribers about this update", if this should be necessary.
A "New" and "Updated" label is displayed for 5 days on a wiki article.
Related wiki articles
You can display a related articles section for a wiki article, which shows other wiki articles that have at least one hashtag of the same type.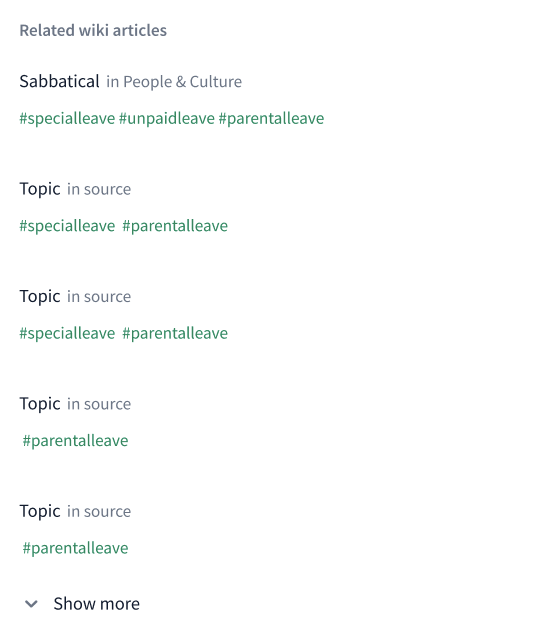 If there are more than five articles, the first five articles are always displayed and then a button appears to load the other articles. The order here depends on the number of related hashtags.
Move an article
Articles that you add to a wiki app are arranged in chronological order. If you would like to customize how they are sorted, you can move the wiki articles up or down via drag & drop.
Hover over the desired article until a dotted line appears and then move the article to the desired position. Haiilo shows you where the article can be moved to. This also allows you to make sub-articles independent articles and change the order.
Duplicate an article
A wiki article can be duplicated with its entire content at any time. To do this, the "Duplicate" button of an article must be selected in the overview or detailed view by a user who has the permission to create a wiki article in the wiki app.
A duplicated wiki article is then created as a draft with the same title plus the addition of "Copy of" at the beginning.
Social interactions such as likes and comments are not duplicated. And sub-articles are not automatically duplicated when the main article is duplicated.
Archive an article
Individual wiki articles can be archived via the three dots in the article's upper right corner by selecting Archive. By archiving a wiki article, it won't show in the search by default but archived articles can be included by a toggle. Archived wiki articles cannot be selected in widgets, but if a Wiki article widget already displays an archived wiki article, it will remain.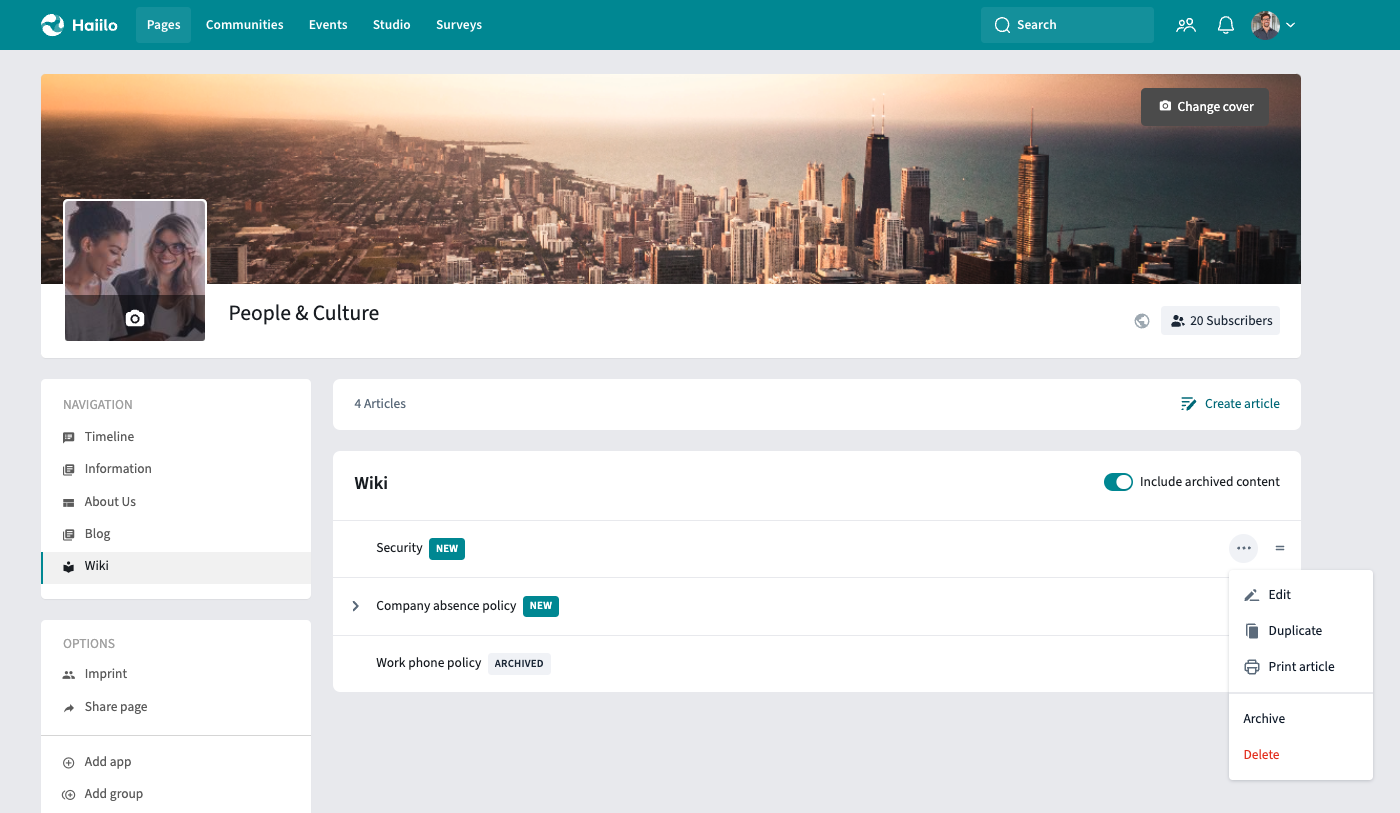 A user who has permission to publish a wiki article in a particular wiki app can also archive articles and restore archived articles. Archived wiki articles will receive an Archived label.
By default, archived wiki articles are hidden from the Overview. Users can toggle Include archived content to see archived wiki articles. Archived wiki articles aren't displayed on the Haiilo mobile app. However, direct access is possible, e.g., when the user opens a link to an archived wiki article on mobile.
When archiving a wiki article with sub-articles, each sub-article must be archived individually before archiving the parent wiki article. It's not possible to archive multiple articles at once.