With the Google integration in Haiilo, your digital home is completed by another piece. You unlock more features from Google directly in your Haiilo.
There are two packages for the integration with Google.
Basic package
These function/s of the basic package are included by default in Haiilo after a configuration.
Login with Google
You can create an additional button on the login screen that allows a user to log in to Haiilo using Google. The requirement for this is that the email address of his Google account must match the email address in Haiilo.
You can find out how to set this up here.
Sync users
In addition to local users, you can also automatically synchronize other users via Google (Google Workspace), if you manage any there.
You can find out how to set this up here.
Add-on package
These function/s of the add-on package are included in Haiilo after a configuration, if you have booked the corresponding add-on and the user has logged in to your Haiilo via Google.
Note:
The previously mentioned function/s of the basic package are additionally available in the Add-on package.
Attach Google Drive files
With Google integration, you can easily attach files to your posts - whether it's a timeline post, an addition to a comment, in a chat or as an attachment to an article. It's as simple as selecting the appropriate file (e.g. image) from your Google Drive and attaching it to the corresponding post.

Once you have clicked on "Google Drive", a new window will open. There you select the file you want to upload and click "Select".
The permission settings of your documents remain the same as you originally set them in Google Drive, even when you publish to Haiilo. In addition, a warning message appears when you post a private document.
Sync Google calendar
Haiilo events are synced with your Google calendar, so you don't have to manage them twice. If the events in Haiilo are changed (e.g. the time or the date), the event in your Google calendar will also be updated automatically.
To do this, these basics must be in place:
Users log in to Haiilo with their Google account.
The users have a role with the permission "Enable Google Workspace".
The users activate the Google Calendar Sync in their account settings
Search through Google Drive
With Haiilo Search you can also find files from Google Drive. The integration makes it easier for you to search for content. You don't have to think about whether it's content in Haiilo or from Google Drive - you use a search to find the relevant content. This way you will find what you are looking for much faster. Haiilo shows you the number of search hits in Google Drive as well as those from Haiilo. One click will take you to the content you're looking for.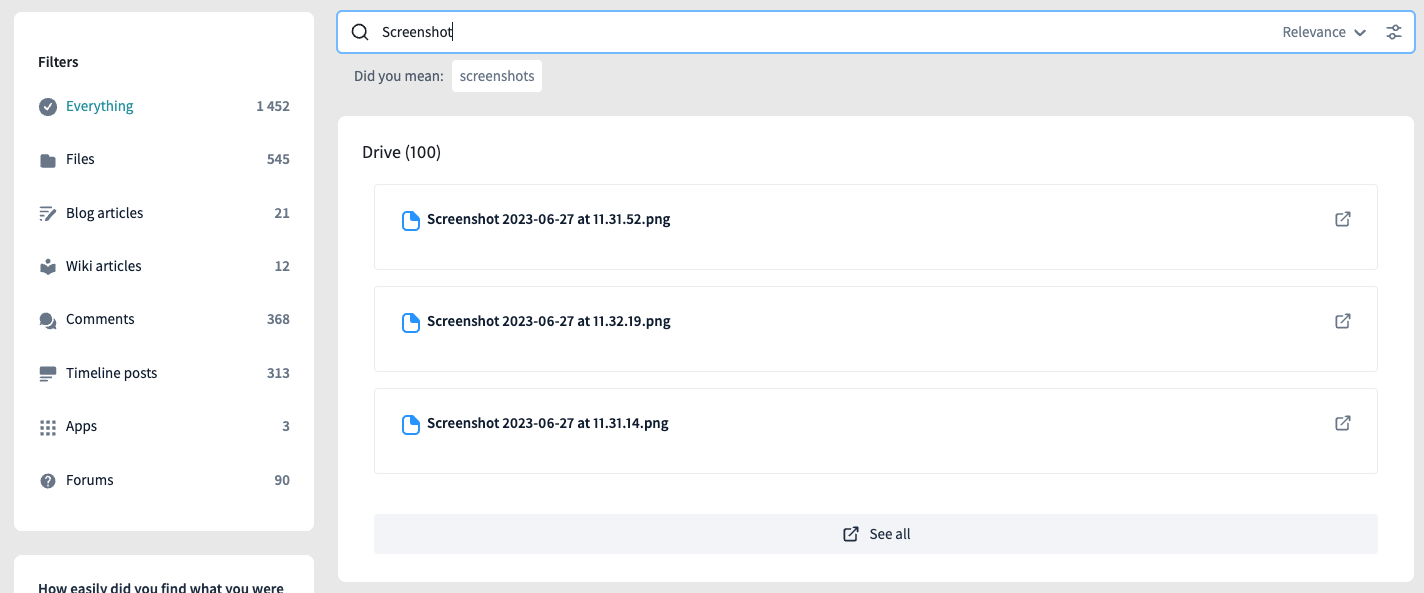 If the desired file is not included in the list, Haiilo will redirect you with one click. To do this, select "See all" and the search will continue in a new browser window in Google Drive.